Build Usage
编辑
 Diana's passive, Moonsilver Blade Moonsilver Blade, activates every third strike, which means that building attack speed items on her may greatly increase your sustained AoE damage output. is a particularly good item for this, as it gives +50% attack speed, 25% cooldown reduction, +65 ability power and extra mana regeneration.
 Diana due to her low cooldown on Crescent Strike and her ability to quickly close the distance with Lunar Rush, and will give a major boost to your burst damage provided you have built enough AP items.
works very well on
Even when building for survivability, make sure to buy items which also offer [AP] to maximize damage output.
will give a good boost to your magic resistance, whilst should be built when the enemy teams deals a lot of physical damage.
 Diana can become deceptively durable with a due to the low cooldown of her damaging abilities.
官方推荐出装
编辑
Classic's




推荐物品

 
 
 
 
 
 

Dominion's




推荐物品

 
 
 
 
 
 

Proving grounds'




推荐物品

 
 
 
 
 
 
对抗此英雄
编辑
Dodge Crescent Strike or move to safety if you are affected by Moonlight.
Pale Cascade orbs only last a few seconds. Avoid Diana and engage her after the shield dissipates.
Diana can play very aggressively if she uses Lunar Rush without Moonlight, but you can punish her by slowing or stunning her when she has no way to get back into position.
Diana is able to kill squishy charcters easily,even under turret due to her shield. Spending on an early Hex Drinker is a good option for all AD carries to build which can later be changed in a Maw of Malmortis.
Champion Spotlight
编辑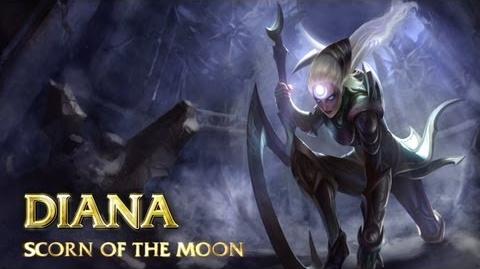 "Transmogulate!"

本文是英文页面 Diana/Strategy 的翻译,最后翻译时间:2012-11-30 ,点击这里可以查看翻译后英文页面的改动。