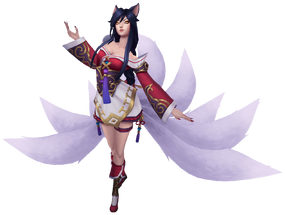 跟其他游荡在
艾欧尼亚
南部丛林中的狐狸不同,阿狸总觉得她跟魔法世界有一种说不清道不明的联系,一种不完整的联系。在内心深处,她觉得她难以适应这具生而拥有的肉体,梦想有一天可以变成人类。这个梦想看起来遥不可及,直到有一天人类战场上发生的事情改变了她。那是一副惨烈的景象,战场上横七竖八地躺着或重伤或死去的士兵。她被其中一人吸引了:一个身穿长袍的男人,他的生命正在极速地流逝,身边萦绕着一个渐渐衰灭的魔法盾。阿狸走近了他并感到自己内心身处的一些东西被激发了,以某种她难以理解的方式向这个男人展开。他生命的精魄通过无形的魔法纽带,灌入到了阿狸体内。这种感觉令人陶醉而又不可抗拒。当这种醉人的感觉渐渐消退后,阿狸惊喜地发现她已经非同往日。她那顺美洁白的皮毛已经消减,她的体形高挑自然,看起来就像倒在她身周的人类一样。
不过,即便她已成人形,她也知道这次幻化并不完整。作为一只机敏的生物,她很快就适应了人类社会的风俗礼仪,并以她不可多得的天生丽质去吸引心无戒备的男人。当他们拜倒在她的魅惑诱术之下的时候,阿狸就可以吞噬他们的精魄,把自己的梦想建立在别人的欲望之上。但她越是这样做,那种古怪的悔恨感就越是难以遏制。她开始有了她在作为一只狐狸时从没有过的自我约束。她意识到她不能克服她日益增长的道德感。在寻求解决之道的时候,阿狸发现了战争学院,符文大陆上天才法师的云集之地。他们答应帮助她在不作恶的情况下变成真正的人类,只要阿狸为英雄联盟效力。
"慈悲是人类的奢侈之举,但也是责任所在。"

―阿狸
Champion selection
Attacking
"Play time's over."
"他们现在是我的了."
"大发慈悲?太迟了."
"我们去找点真正的乐子."
"没有人能阻挡我的道路."
"They've exhausted their use."
Movement
"Shall we?"我們應該嗎?
"Indulge me."放縱我
"How tempting."多麼誘人
"Don't hold back."別忍住
"Tell me a secret."告訴我一個秘密
"Don't you trust me?"你不相信我嗎?
"I know what they desire."我知道他們想要什麼
Taunt
"Should I make your pulse rise? Or...STOP! (giggles)"
                            我應該讓你的心跳加速?    或者...停下! (笑聲)

Joke
Ahri plays with her orb like it's a basket ball using her tails.
"If you'd like to play with me, you'd better be sure you know the game." 如果你想和我玩,你最好確定你知道這場遊戲
"Come try your luck, if you think you're in my league. (giggles)" 來試試你的運氣,如果你認為你和我是同一陣線的
Laugh
Ahri laughs.
Ahri laughs.
Ahri laughs.
Ahri laughs.
Development
编辑
Ahri was designed by Ezreal.
Special Champion Sneak Peek
编辑
Announcement made in the Sneak Peek by Average Gatsby[1]:
Summoners!
Occasionally we debut future champions a bit ahead of time because we're super excited about them and we just can't contain ourselves!
Let us introduce you to our take on the Asian legend of The Nine Tails Fox: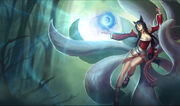 We think her combination of strength, beauty, power and grace will yield a fun and amazing champion to play! While she is very early in development, here's a little sneak peak at what she'll be able to do:
Based on the story of a fox who wanted nothing more than to become human, this champion will be a ranged caster who utilizes her Fox Bead to decimate her opponents on the battlefield. She's going to be extremely agile and versatile, using her nine tails to maneuver in and out of combat with style and grace. She will also make use of her Fox Fire, where she will summon balls of fire which will seek out and destroy nearby enemies.
She's very early in development, so as always her abilities and artwork are subject to change, but we hope you're as excited about her as we are!
Mechanics Preview
编辑
Announcement made in the mechanics preview by Morello:[2]
Greetings Summoners!
Back in the end of September, we announced The Nine Tails Fox much to the excitement of our community. Well the time has finally come and after much anticipation, we wanted to reveal the gameplay style for Ahri, the Nine-Tailed Fox.
Ahri's gameplay style revolves around mobility and managing position to aim her spells. When played properly, Ahri darts around teamfights, picking off wounded stragglers and harrying soft enemies.
This is largely accomplished through her ultimate, which allows her to dash multiple times before going on cooldown. Ahri can either use all three quickly to chase, burst, or escape, or she can spread out their uses to keep enemies guessing and juke around the battlefield. Combining this with her high magic damage and her Seduction ability to lock enemies down, she can strike from unexpected angles or bait enemies into over-committing to disadvantageous situations.
Ahri's major gameplay decisions are based on her assessment of risk/reward. Her burst is high, but must be in short range to maximize it. This creates a dynamic that requires her to endanger herself to reach full potential. Play it safe and have more light damage, or commit and go for the kill? Use your dash for damage, or save it for escape? The choices are constant with these opposed strengths and weaknesses.
Her kit is really designed to appeal towards opportunistic players who prefer characters with a lot of action, and especially players that like to lull enemies into overconfidence, only to capitalize and punish them. Ahri's dangerous, seductive nature is something we're happy to deliver for players who like to toy with their enemies before destroying them.
Foxfire Ahri
编辑
Announcement made by NeeksNaman:[3]
This blazing-hot new take on Ahri, the Nine-Tailed Fox, will definitely turn up the heat. Featuring fiery ambient effects on her tails along with some sizzling new spell effects on Foxfire and Spirit Rush, Foxfire Ahri is sure to leave you sweating.
历史补丁
编辑
参考资料
编辑