Because of the increased damage from his passive, getting a
at the beginning of the game allows you to deal a lot of damage. Starting with and three will give you more sustain and mobility, which is helpful when fighting strong poke and early gankers.
 Corki scales well with high attack damage, so try to build an early or .
Getting a mana costs. However, it sacrifices mid/late-game DPS.
helps to deal with Corki's
Gatling Gun Gatling Gun, allowing  Corki to reduce armor by up to 85, more than any other champion. As armor reduction can reduce the enemies armor below 0, building is a very good choice against enemies with a low to medium amount of armor. When fighting multiple enemies with a high amount of armor, is superior to though.
stacks with
armor. Anytime before that will be removing more armor from the enemy.
will be more helpful after the enemy has 160
 Corki because you can get a proc frequently with Missile Barrage Missile Barrage and then apply it with auto attacks. This will strengthen your mid to late game damage output (as your passive applies with Sheen) and will give you some utility and survability. (in form of mana, the slow, movement speed and health). The slow from it is also highly useful for maximizing the power of Gatling Gun Gatling Gun as the ability requires  Corki to maintain facing enemy targets for its four-second duration, when constantly kiting usually tends to be a necessity for survival as a ranged-carry in teamfights.
is a good item for
Building typical AD carry items on  Corki works well with his skillset. Valkyrie allows him to keep up range and be relatively safe while Hextech Shrapnel Shells Hextech Shrapnel Shells and Gatling Gun Gatling Gun will increase his damage output greatly.

Building attack damage.
early is not a good idea, as Corki benefits more from building

Building
is a good idea if you are having problems in your lane (due to lack of healing or strong enemies) or fear getting assassinated by physical damage midgame.
官方推荐出装
编辑
Classic's




推荐物品

 
 
 
 
 
 

Dominion's




推荐物品

 
 
 
 
 
 
对抗此英雄
编辑
Champion Spotlight
编辑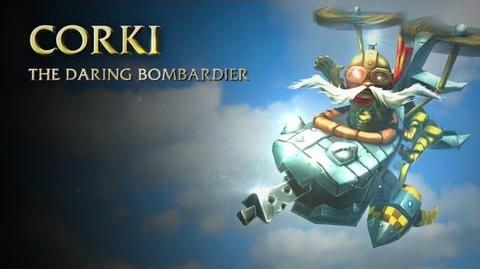 "Transmogulate!"

本文是英文页面 Corki/Strategy 的翻译,最后翻译时间:2012-11-30 ,点击这里可以查看翻译后英文页面的改动。