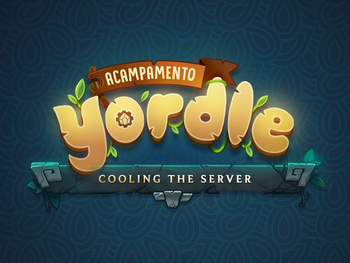 Yordle Camp is an event on the Brazilian server that promotes positive player behavior. It debut on September 17-19, 2017[1], and recurred on April 12-21, 2018.[2]
Overview
The server player-base is split into team Crystal or Gear, players are titled as such while ingame. Each team has a health-bar they must keep from reaching 0 until a daily timer runs out.
The timer lasts from 8:00AM–11:00PM BRT
HP is equal to a bit less than the daily average number of punishments issued on the server (No exact amount is displayed).
If a player is punished by the report system while the timer is active, -1 HP is incurred to their team's health. This can occur once per player per timer.
If a team survives the timer, those players are rewarded except for:
A player that has been issued a punishment during the timer.
A player that has not completed at least one matchmade Summoner's Rift PvP game during the timer.
Rewards
Rewards are sent at 8:00AM the following day.
Players are rewarded a

Camp Capsule that may contain one of the following:
Hextech Chest
Hextech Key
Combining 3 Camp tokens will reward a team-exclusive icon:
"
   Why yordles?
Inhabitants of Demacia do not like to leave home very much.
— Riot Games Brazil
| Date | Reward |
| --- | --- |
| September 17 2017 | Hextech Chest |
| September 18 2017 | Hextech Key |
| September 19 2017 | Hextech Chest |
"
   Why yordles?
Have you tried to organize a scavenger hunt with Noxians? We don't think so.
— Riot Games Brazil
Media
References
Community content is available under
CC-BY-SA
unless otherwise noted.