Champion First Look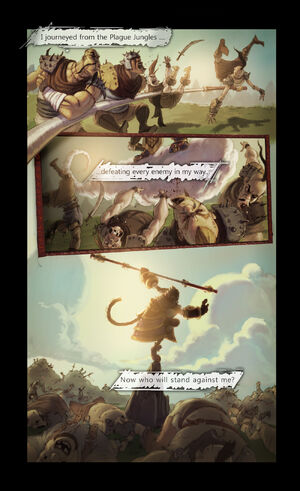 Summoners!
You've just gotten your first look at our awesome, but unhinged, yordle Mechanized Menace:

Rumble. But that isn't the only surprise that we have in store for you today! Here's quick teaser for another upcoming champion somewhat further off on the horizon. And while there's still a bit of time before you'll be watching him take to the Fields of Justice, don't be alarmed if you hear from him again sometime in the future!
It is our pleasure to bring you this video sneak preview of

the Monkey King!
Champion Sneak Peek
By Average Gatsby[2]
If you positively flipped out when you saw our First Look at the awesome and acrobatic Monkey King back in April, you'll be pleased to know that your long wait is nearly over. And I'm not just monkeying around this time! So if you're ready to go bananas like a party animal to celebrate the release of

Wukong, the Monkey King, start sending out your invitations. This is one primate you're not going to want to miss.
Media
References
References
Community content is available under
CC-BY-SA
unless otherwise noted.