Fire Emblem Warriors: Three Hopes - The Loop
Play Sound
Wuju was a settlement located on Bahrl. It is the birthplace of the art of Wuju. It has since been destroyed during the Noxian Invasion of Ionia.
Lore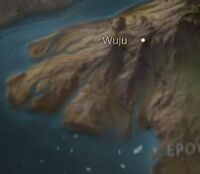 Wuju was once a thriving settlement. After the Noxian Invasion it was left in ruin. Currently magically infused vines surround the area and need frequent trimming in order to not spread across the island.
What remains of the town are burial grounds, toppled beams and stonework, remnants of houses, workshops, schools, shrines. The graves visited are arranged in perfect symmetry, with gaps between the mounds for someone to pass through.

Yi has places a hand on every hilt of every sword piercing the earth. These are his memorials to warriors, teachers, and students. He did not skip a single one.
Champions of Wuju
Other Related Champions
caused the death of many Wuju inhabitants.
is a Wuju practitioner.
Wildlife
Bahrl Jays
Bahrl Jays are an avian species native to the Ionian island region of Bahrl. They are quite active during the morning and they have melodic song like chirps.
Government
See Also
References