West Studio is an American art studio that creates Splash Artwork for Riot Games Inc.
Description
West Studio is a visual development studio committed to producing inspirational and informative artwork for the entertainment industry.
The company is comprised of a worldwide network of artists headed up by veteran Creative Director and CEO Tyler West. West Studio collaborates with clients to establish the creative direction and visual language for their intellectual property.
They have collaborated with Riot Games Inc. since 2019, mainly providing some of the newer splash arts.
Contributions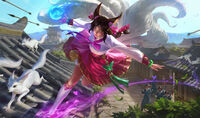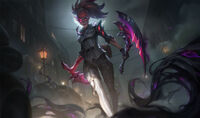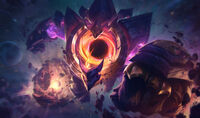 Splash Art
(Collaboration with Marie Magny)
(Collaboration with Huyy Nguyen), (Collaboration with Yuhong Ding)
,
,
(Collaboration with David Villegas)
(Collaboration with David Villegas), (Collaboration with Augusto Quirino), (Collaboration with David Villegas)
(Collaboration with Terence 'Terrylefruit' Cantal), (Collaboration with David Villegas)
(Collaboration with Sora Kim)
(Collaboration with Francis Tneh)
, (Collaboration with Clare Wong)
(Collaboration with Lucas Parolin), (Collaboration with Augusto Quirino)
(Collaboration with David Villegas), (Collaboration with Forrest Imel)
, (Collaboration with Terence 'Terrylefruit' Cantal),
(Collaboration with Ina Wong), (Collaboration with Xiao Guang Sun)
(Collaboration with Francis Tneh), (Collaboration with Félix Donadio), (Collaboration with Viktoria Gavrilenko), (Collaboration with Edward Chee), (Collaboration with Forrest Imel), (Collaboration with Jiunn Kuo), (Collaboration with Huyy Nguyen)
(Collaboration with Clare Wong)
(Collaboration with Terence 'Terrylefruit' Cantal)
(Collaboration with Sora Kim)
(Collaboration with Forrest Imel), , (Collaboration with Forrest Imel)
(Collaboration with Francis Tneh), (Collaboration with Xiao Guang Sun),
(Collaboration with Terence 'Terrylefruit' Cantal), (Collaboration with Marie Magny), (Collaboration with Terence 'Terrylefruit' Cantal), (Collaboration with Svetlana Tigai), (Collaboration with Ina Wong),
(Collaboration with Marie Magny), (Collaboration with Xiao Guang Sun)
(Collaboration with David Villegas)
(Collaboration with Viktoria Gavrilenko), (Collaboration with Marie Magny)
(Collaboration with Xiao Guang Sun)
(Collaboration with Edward Chee)
(Collaboration with Francis Tneh), , (Collaboration with David Villegas), (Collaboration with Katya Cyan)
(Collaboration with Lucas Parolin)
(Collaboration with Forrest Imel),
(Collaboration with Edward Chee)
(Collaboration with Ina Wong), (Collaboration with Clare Wong)
(Collaboration with David Villegas),
(Collaboration with David Villegas)
(Collaboration with David Villegas)
(Collaboration with Huyy Nguyen), (Collaboration with Xiao Guang Sun), (Collaboration with Sean 'Raiko' Tay)
(Collaboration with Huyy Nguyen),
, , (Collaboration with David Villegas)
(Collaboration with Ina Wong), , (Collaboration with Yan Kyohara)
(Collaboration with Foritis Wang), (Collaboration with Foritis Wang)
(Collaboration with Ina Wong)
(Collaboration with Felipe Martini), (Collaboration with Augusto Quirino)
(Collaboration with David Villegas)
(Collaboration with Clare Wong), (Collaboration with Marie Magny), (Collaboration with Yuhong Ding)
, (Collaboration with David Villegas)
(Collaboration with David Villegas, Mingchen Shen),
(Collaboration with Mingchen Shen), (Collaboration with Xiao Guang Sun), (Collaboration with Jiunn Kuo)
(Collaboration with Forrest Imel), (Collaboration with Terence 'Terrylefruit' Cantal), , (Collaboration with Marie Magny)
(Collaboration with Sean 'Raiko' Tay)
(Collaboration with David Villegas)
(Collaboration with David Villegas)
(Collaboration with Francis Tneh),
, (Collaboration with Francis Tneh), (Collaboration with Sean 'Raiko' Tay),
(Collaboration with Clare Wong)
(Collaboration with Lucas Parolin), (Collaboration with Jiunn Kuo)
(Collaboration with Francis Tneh)
(Collaboration with Forrest Imel), (Collaboration with Forrest Imel), (Collaboration with Svetlana Tigai)
(Collaboration with Lucas Parolin), (Collaboration with Felipe Martini)
(Collaboration with Foritis Wang)
(Collaboration with Terence 'Terrylefruit' Cantal)
(Collaboration with Xiao Guang Sun), , (Collaboration with Lucas Parolin)
(Collaboration with Xiao Guang Sun), , , (Collaboration with David Villegas)
(Collaboration with Clare Wong),
,
(Collaboration with Lucas Parolin)
(Collaboration with Francis Tneh),
(Collaboration with Francis Tneh)
(Collaboration with Yan Kyohara)
(Collaboration with Xiao Guang Sun), (Collaboration with Terence 'Terrylefruit' Cantal), (Collaboration with Marie Magny)
(Collaboration with Mingchen Shen), (Collaboration with Sean 'Raiko' Tay)
(Collaboration with Yan Kyohara), (Collaboration with Yan Kyohara)
(Collaboration with David Villegas)
(Collaboration with Sean 'Raiko' Tay), (Collaboration with Rayden Chen)
(Collaboration with Félix Donadio)
(Collaboration with Ina Wong)
(Collaboration with Marie Magny),
,
(Collaboration with Forrest Imel)
(Collaboration with David Villegas), (Collaboration with Yan Kyohara)
(Collaboration with David Villegas)
(Collaboration with Francis Tneh), (Collaboration with Mingchen Shen)
(Collaboration with Marie Magny)
(Collaboration with Francis Tneh), (Collaboration with David Villegas)
, (Collaboration with Xiao Guang Sun)
(Collaboration with Sean 'Raiko' Tay), (Collaboration with Marie Magny), (Collaboration with Huyy Nguyen)
(Collaboration with Augusto Quirino),
(Collaboration with Augusto Quirino), (Collaboration with Xiao Guang Sun), (Collaboration with Ina Wong)
(Collaboration with Augusto Quirino)
, (Collaboration with Xiao Guang Sun), (Collaboration with Félix Donadio)
(Collaboration with Sora Kim), (Collaboration with Jiunn Kuo)
(Collaboration with Ina Wong), (Collaboration with David Villegas)
(Collaboration with Terence 'Terrylefruit' Cantal)
(Collaboration with David Villegas)
(Collaboration with Ina Wong)
(Collaboration with Clare Wong)
(Collaboration with Katya Cyan), (Collaboration with David Villegas), (Collaboration with David Villegas)
(Collaboration with David Villegas), ,
,
(Collaboration with Sean 'Raiko' Tay)
(Collaboration with Ina Wong), (Collaboration with Francis Tneh),
(Collaboration with Francis Tneh)
(Collaboration with David Villegas), (Collaboration with Huyy Nguyen), (Collaboration with Francis Tneh)
(Collaboration with Lucas Parolin)
(Collaboration with Edward Chee), (Collaboration with David Villegas)
, , (Collaboration with Mingchen Shen), (Collaboration with Francis Tneh)
, (Collaboration with Ina Wong), , (Collaboration with Svetlana Tigai)
(Collaboration with Gabriela Dea Julia), (Collaboration with Xiao Guang Sun)
(Collaboration with Sean 'Raiko' Tay)
(Collaboration with Francis Tneh)
(Collaboration with Augusto Quirino), (Collaboration with Francis Tneh)
(Collaboration with Francis Tneh), (Collaboration with Xiao Guang Sun),
(Collaboration with Felipe Martini), , (Collaboration with Felipe Martini), (Collaboration with Xiao Guang Sun),
(Collaboration with Augusto Quirino)
(Collaboration with Ina Wong)
(Collaboration with Marie Magny), (Collaboration with Ina Wong),
(Collaboration with David Villegas), (Collaboration with Katya Cyan)
(Collaboration with Zoe Zhu), (Collaboration with Lucas Parolin)
(Collaboration with Sean 'Raiko' Tay)
,
(Collaboration with Terence 'Terrylefruit' Cantal)
(Collaboration with Svetlana Tigai)
(Collaboration with Edward Chee), (Collaboration with David Villegas)
(Collaboration with Huyy Nguyen), (Collaboration with Xiao Guang Sun)
(Collaboration with Svetlana Tigai), (Collaboration with Clare Wong)
Links