About me
Started playing LoL at the beginning of August, 2010. Never played DotA or HoN, LoL was my first game of this type. I prefer the jungle or playing as an assassin, support or tank, although I really like how champions like Nidalee and Renekton play.
Just recently got back from deployment so hopefully I'll be able to put a bit more time into this wiki as well as into the game itself. I am going to claw my way up to the gold Elo range. I'll also (eventually) continue my Elo Hell and You series.
Elo Hell and you
Check out my Guides
My Custom Champions
Favorite Champions
Ranged Carry
Best ranged carry out there
Fine alternative to Ashe
Great ranged carry and my first main "I wanna shoot something!"
Tank
"Anyone for a spot of tea?"
Replacement for the now gimped Shen
Bruiser
Beefy DPS
Awesome jungler with utility
Assassin
Insane burst
New favorite assassin/jungler
Squishier than Akali
Support
Ridiculous skill requirement
Fun support champ
Gotten better after her past couple buffs/rework
Jungler
Beefy mage
Broseidon, Lord of the brocean!
Powerful jungler that most don't know how to counter
High Scores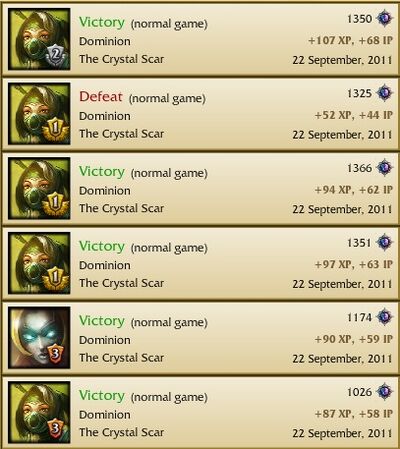 Hella Awesome Dominion Streak
Owned Skins
My Checklist
Champion Checklist

 
Key

Champions
155
Owned
93 (60%)
Wanted
0 (0%)
Undecided
0 (0%)
Not Owned
62 (40%)
Community content is available under
CC-BY-SA
unless otherwise noted.