Recent Inactivity
Due to certain FireFox update, my great-grandpa laptop can no longer use it... and opening any page in my Safari gives it a "slow script" which attempts murder me with lagness. So... I wouldn't be as active as I can.
Whichever the case, I'll be in chat fairly often. Do something and I'll kick yo ass even if it risk being murdered by the lagness. >:3
I am...
SEA player, also currently an editor working to diminish vandals on odd timing whenever I can.
If you are looking for me from Garena LoL Forum, either check the live chat for my presence, or leave a message on my talk page.
IGN is Leia. Trademark champion is , and a few mentioned below.
Garena nick is Lesanthosxia, same as here. Skype's lorenzooo88.
Real name? Lorenzo, and I'm a Singapore/Malaysia oriented Chinese. I live in Singapore, is a guy in his twenties, working as a usual not-highly paid dude... but I like LoL. That's it. :)
Playing style? I'm extremely offensive player if circumstances allow me to, especially when I'm playing , be it solo top or duo bot as carry. I like being the support role too, but that is only when I have a trusted carry lane-mate.
My trusted mates on LoL:
Kepily, lordmayii, sainity, tigger. Many more that I did not mention here, but I like playing with some of them too, provided they don't QQ bout every single thing in the game. :)
The Multi-kill Updates
Massacre Record:
Penta-kills
, Hybrid.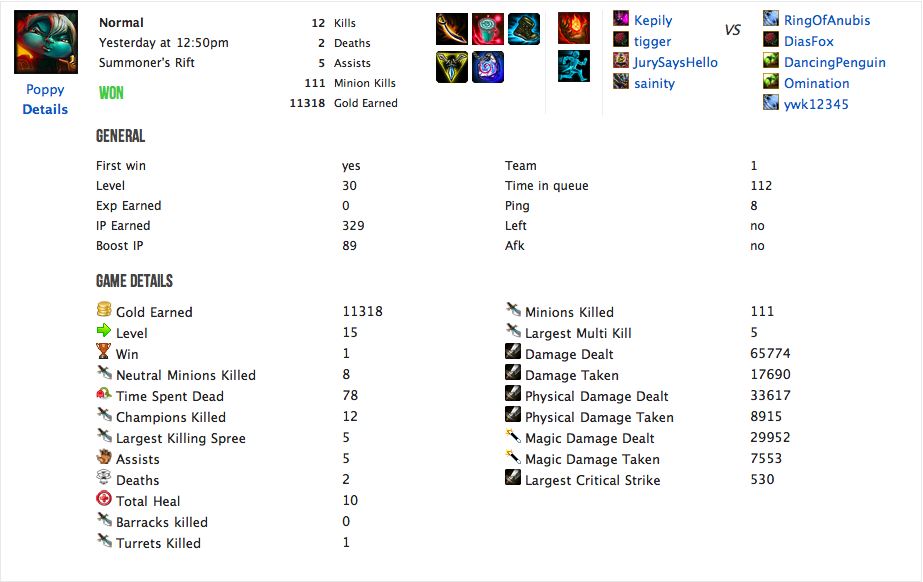 Quadra-kills
, Tank mode.
, Hybrid.
Current Projects
Ability Details Maintenance (Refer to this)
List of pages (Refer to here)
Spell shield add on, and potential categorization
Debuff construction
Anti-vandal activity (on-going)
Also known as: Leia SanthosX due to a blocking incident.

On my phone, I'll be known as

雷亚
Favorite Champions

Poppy, She wrecks havoc, HARD. I currently has the highest winning rate with her of about 80%. Currently going ranked on her, and only her too.

Orianna I just love her support. Comes with a ward-checker, enhanced damage on basic attacks, disorienting
Command: Shockwave: I just love how her kit is.

Anivia Frosty bird's gonna hits for tons of damage. Nuff said.
~My Champions~
Champion Checklist

 
Key

Champions
148
Owned
88 (59.5%)
Wanted
12 (8.1%)
Undecided
5 (3.4%)
Not Owned
43 (29.1%)
~My Skin~
~Champion Ideas @ hand~
Community content is available under
CC-BY-SA
unless otherwise noted.