WELCOME AND HIYA,

YOU

!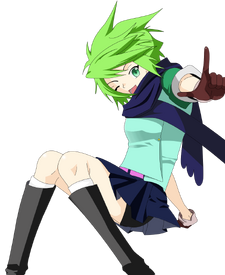 Greetings
I used to be a moderator of this site, but now I spend a lot of my free time doing other things, so I can't really delicate my time here. This site was a blast being a part of and for anyone who reads this, I wish you all to have a great experience and help make this site every better.
ClariS
HIIIIIIIIA!!!!! visitor!!!!!
ClariS is a Japanese pop music duo and idol unit consisting of high school girls Clara and Alice from Hokkaido. Originally known as "Alice Clara", ClariS began singing covers of mainly songs featured in anime and songs originally sung by Vocaloids, and submitting them to the Nico Nico Douga video sharing website between October 2009 and June 2010. In September 2010, ClariS was signed to SME Records and released their debut single "Irony" in October 2010.
She's actually my second champion I brought, but ever since I brought her, I fell in love with her kit. I stuck to her through her two re-works and will continue to stay by her until the end.
I personally just like her overall main theme of being a jump in and quickly trade blows and then retreat. It really matches with my general play style.
The first champion I owned and it has a place in my heart even till this day. Down to it's cartoonist design and one liners, Rammus will always be the king of under a tower.
I don't know why, but I have always stuck with Sivir. Even through the harsh times, I always come back to her.
<span style="color:red">'''(USER WAS BANNED FOR THIS POST)'''</span>
(USER WAS BANNED FOR THIS POST)
#REDIRECT [[User:ClariS]]
About Me
And thank you for coming to check out my profile. If you were actually looking for the group ClariS, then you're on the wrong place. I wish I could say there is something special about me, but there isn't but I hope that doesn't disappoint you.
I'm currently a full time college student in the University of Minnesota with a part-time job, so my ability to play League of Legend and help this wiki will be limited at times. But if you ever find yourself with a question or request, please feel free to ask. I would gladly help if I can.
I'm a polite and manner person who loves to have conversation with people. I will at times go around the wiki to help out anyone with questions or concerns. I have an eagerness to help out around here and blog about my thoughts whenever possible.
Based on my name, you can figure I have an interest in anime and anime music. Which I do, but my true passion is the story and creativity as I love to write. A lot of my free time is writing my very own story (which can be found here) Also, I love to draw, but most of my drawing are limited to my stories, but you might find of my work around this wiki. I do enjoy coloring and if I find something I find adorable, I will not hesitate to work on it.
I enjoy playing LoL, and love playing with other people. I'm not a really serious person while playing the game and would rather have fun more than anything. A win on the other hand would be the cream on top of a cake. I'm an average player though. I'm not really good with any one specific class, but if I had to choose, I would say I play a safe decent ranged carry.
A little thing for my special friend, Blob. Here's the link: Teh-Anonymous
Community content is available under
CC-BY-SA
unless otherwise noted.