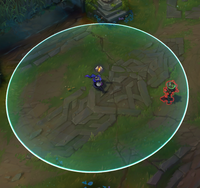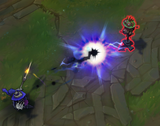 Unit-targeting is the most basic targeting paradigm an ability can have - abilities using this targeting type require a valid target to be cast on within range, which means having

 sight of the target is also necessary. What constitutes a 'valid' target varies from spell to spell; this list has been separated into subsets depending on what the spell can be used on, with several abilities belonging to more than one group.
Certain spells should not be confused as having the alternate targeting paradigm self-targeting - abilities listed here have the user as just one of the potential valid targets instead of the only one.
Uniquely,
Janna's
Eye of the Storm is the only unit-targeted-exclusive ability that can function on allied turrets. Terrain-targeted abilities can target turrets as well and unlike ground-targeted abilities cannot be cast on ground. Hence they are being listed as subcategory of unit-targeting.
Champion Abilities
Self-targeted
Ally-targeted
and
and
and
, and
and
(both casts)
and
and
(active, e.g. after stealing )
Enemy-targeted
(first cast)
and
, and
and ( )
and ´
and
and
(first cast)
( )
and
and
and
and
and
and
and
(active, e.g. after stealing )
Items
Ally-targeted
Enemy-targeted
Summoner Spells
Ally-targeted
Enemy-targeted
Community content is available under
CC-BY-SA
unless otherwise noted.