Raise a Floppa - The Loop
Play Sound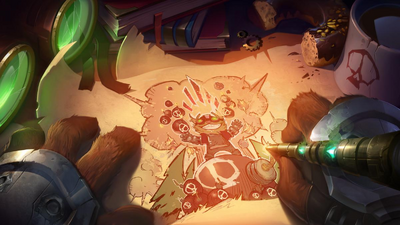 Ultra Rapid Fire (U.R.F.) is a Featured Game Mode played on Summoners Rift where all champions get to use their abilities more often and matches usually last 20 minutes or less. All players start the game with an aura that adds many adjustments to how the game is played. The two main highlights are 300 Ability haste, (equivalent to 75% cooldown reduction), and the removal of all mana and energy costs from using abilities. The game mode alternates between All Random and Blind Drafts.
Features
Map: Summoner's Rift
Draft: All Random or Blind Pick

Alternates between the two between times URF is present as a game mode - the former also being called ARURF or AR Ultra Rapid Fire.

Features:

Effects: (Updated as of ARURF 2022)

+300  ability haste, summoner spell haste, and item haste.
+25% tenacity.
Critical strikes deal 25% additional damage.
Champions that can have mana convert 35% of bonus mana into bonus health, and 100% of bonus mana regeneration into bonus health regeneration.

The following buffs are specific to the champion when applicable:

This unit deals X% of its normal damage.
This unit receives X% of its normal damage.

Notes:

Ability haste from other sources stack with the URF bonus.

healing effects are only 50% effective at the beginning of the game, increasing by 1% every 30 seconds, up to 100% effectiveness at 25 minutes.
: Direct
shields strength are reduced by 30%.
: Non-ultimate
Champion cannon: A cannon outside each team's fountain will be present for friendly champions to select. Jumping inside the cannon renders the unit vanished, and staying in for more than 10 seconds forces them out. Units have a larger field of view of the map and can launch themselves with displacement immunity to a target location of their choice, up to a maximum range. A circular indicator visible to all units will be placed on that specific location. Upon impact, all enemies within the area take

120 − 460 (based on level)

magic damage

and are knocked airborne.
Minion gold: When nearby minions die, receive an amount of

gold

regardless of whether you scored the last hit or not. Additionally, last hitting a minion grants more gold.
Higher level cap: The level cap is increased to level 30.
Early surrender: Can now unanimously surrender at 8 minutes, or surrender normally at 10 minutes.
Early homeguard: Homeguard is enabled from the start of the match.
disintegrates at 8:00 instead of 14:00.

Summoner Spells changes:

Charge rate reduced to 30 seconds from 75 seconds.
Cooldown between charges reduced to 10 seconds from 15 seconds.

Jungle changes:

Initial spawn time reduced to 4 minutes.
Respawn time reduced to 2 minutes and 30 seconds.

Initial spawn time reduced to 10 minutes.
Respawn time reduced to 5 minutes.
Grants both the
and spawns a when slain.
Golden Spatula Club
Golden Spatula Club ( This was a club membership that lasted for the duration of the Lunar Revel 2019 event. Joining granted you: ):
Finishers
Players who are part of the Golden Spatula club will trigger one of 3 unique Finishers, chosen at random, whenever they score a takedown on an enemy champion.
Equipping any of the following summoner icons will cause the corresponding Finisher to trigger.
Mode-Specific Changes
As balanced changes from previous events have been observed in-game despite not being documented by Riot, all possible recurring changes have been listed below and appropriately denoted. The reason for distinguishing these changes is that the values listed are those from previous event notes and may not reflect the current value.
Note that any cooldowns detailed below are as they appear in-game (i.e. they are not reduced by Ultra Rapid buff to a lower value).
This table extracts the data from Module:ChampionData/data and Template:map_changes/data/urf.
Rune Specific Substitutions
Substitutions
is exchanged with .
is exchanged with .
is exchanged with .
is exchanged with .
Item sets
In item sets, some items are replaced:
and are replaced by .
is replaced by .
is replaced by .
Patch and Buff History
Trivia
Media
References