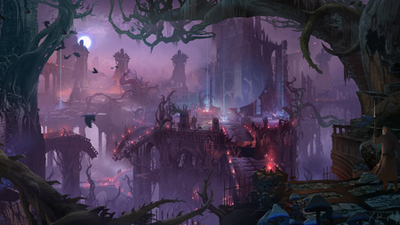 The Twisted Treeline is the second classic League of Legends map. It typically features faster, bloodier matches with an emphasis on ganking and small-scale skirmishes. You achieve victory by pushing your way into the opposing base and destroying the enemy nexus.
A smaller map than Summoner's Rift, the Twisted Treeline is configured horizontally, with two lanes flanking a neutral area. Turrets are placed along the length of each lane, and the nexus is defended by a single turret. Teams are composed of three champions apiece, and each champion spawns with a substantial sum of gold. The reduced map size and accelerated level curve makes for a shorter game length and higher kill scores.
Lore
The Twisted Treeline is located in the mysterious

Shadow Isles. An eternally thick, unnatural fog blankets the islands from the view of outsiders. It is thought that the islands are home to countless forms of undead, though no one seems eager to perform the exploration necessary to find out the truth.
Related Champions
lures people here to feed in exchange for eternal youth.
History
Spider God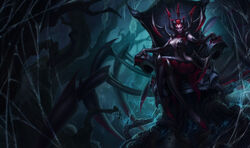 "The Shadow Isles. . . They say they don't exist. Mythical islands haunted by ghosts and specters. Tales to frighten children. But I know better. I have been there. When I first set foot there I immediately knew something was wrong with that place. My skin crawled and in the pit of my stomach, I felt a terrible revulsion. Life didn't belong there. But I also knew... somehow, deep inside I knew that the islands welcomed me. They wanted me.
As I wandered deeper I saw death all around me. Ghostly trees, grass, and flowers engulfed me in their horrifying radiance. It was so quiet and so beautiful. I passed my hand through a spectral leaf fluttering in the wind, but there was no wind. That was when I understood that death was another world and I was at its door.
Then I heard the song; the spider's song. My companion cried out in terror and fell to his knees. I embraced him. I told him he had nothing to fear. He was going to a better place. I will take them all to a better place." -
Elise
Wildlife
Vilemaw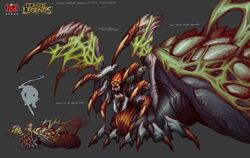 Vilemaw is a giant magical arachnid spider that resides in the Shadow Isles location of Twisted Treeline. What differentiates it from other spiders other than its size is its 8 eyes and 15 appendages. A large portion of its body is located in its abdomen. Its exoskeleton is of various shades of dark blue, purple, and tan.
It has great physical strength as well as magical, being able to transfigure
willing humans into its servants. It uses its servants to gather fresh food.
Gameplay
The objective of Twisted Treeline is simple: destroy the enemy nexus. In order to do this, champions must traverse down one of two different paths (or lanes) in order to attack their enemy at their weakest points they can exploit. Both teams have their lanes defended by numerous turrets; each turret grows in strength the closer it gets to its respective nexus and each turret must be eliminated in order to gain access to the next turret in that lane. Cooperating with fellow summoners is an absolute requirement for success, as it is easy for a champion to find themselves ambushed by enemies in the lanes of the map.
Deep in Shadow Isles lies a ruined city shattered by magical disaster. Those who venture inside the ruins and wander through the Twisted Treeline seldom return, but those who do, tell tales of horrific creatures and the vengeful dead.
The basic strategy consists of having one player in each lane, and a jungle in between.
Work with your teammates to use the close lanes as a chance to kill enemy champions as a team.
The next level of strategy is to funnel both jungle and top wave resources into a single attack speed scaling champion.
Because of the "middle" lane, champions with the ability to hop the wall or roam effectively are very powerful.
The jungle is easier to clear than in Summoner's Rift.
The jungle is good to sneak on the opponent and also to outsmart them by running away or baiting them into a bad position.
AD carries are viable, but they must be protected by their team like on Summoner's Rift. The roles of champions are more or less the same as in 5v5 matches, but a setup with an AD carry should have enough cc to make him/her safe.
The lair of
is a high-value objective. Be aware of the location of enemy champions to know when they are attacking . The shop does not have wards, so vigilance is the only means of protecting from the other team.
Although wards do not exist in the shop, some champions like
, , , , , , , and have abilities that can be effectively used as wards.
Features
Map
Two bases, one for each team, at both sides of the battlefield. The bases have a fountain/shop, a nexus, and one turret that defends the nexus.
You can buy items and regenerate health and mana while in the fountain/shop.
Three turrets per lane that defends the access to the bases.
Two altars located on both sides of the jungle.
A Ghost Relic, which is a health pick-up located in the center of the battlefield. It replenishes health and a small amount of your ability resource. It also grants a brief speed boost.
A jungle populated by neutral monsters of varying degrees of toughness.
The epic monster
, whose camp is located to the top of the top lane.
Champions
Important Timers
Minions spawn: 0:45
Jungle monsters spawn: 1:05
Minions meet: 1:07
Ghost Relic spawn: 2:30
Altars unlock: 2:30
spawns: 10:00
Surrender time: 15:00
Altars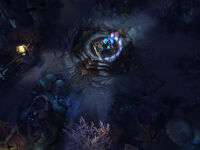 The altars are neutral objectives that can be captured by either team. There are two altars on opposite sides of the map. A champion captures an altar by standing on top of it for 9 seconds. When more champions stand on a single altar, it is captured in a shorter amount of time.
When captured, an altar seals for 90 seconds during which it grants

 vision of the surrounding area and during which cannot be recaptured. Capturing an altar grants

80 to each member of the capturing team. Additionally, controlling an altar grants your team bonus effects.
One Altar Controlled:

10% bonus movement speed.

Two Altars Controlled:

Restore 1% of maximum health on minion and monster kill.
Items
Most items available in the shop, are the same as in Summoner's Rift or Howling Abyss. Some items are exclusive to Twisted Treeline. It is also good to note that there are no wards or ward items available. The only vision item you have is the default trinket:
Arcane Sweeper.
Exclusive Items
(replaces and )
/ /
/ /
/ /
Jungle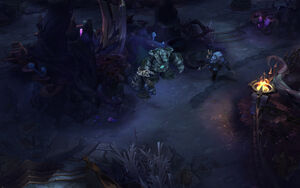 Twisted Treeline's single, centralized, jungle offers multiple access routes to both lanes, promoting fast ganks and aggressive counter-jungling. Junglers on Twisted Treeline typically engage enemy players early and often, coming to the aid of either lane or leading the attack on the opponent's altar. Expect plenty of action in neutral areas on this Field of Justice.
Neutral Monsters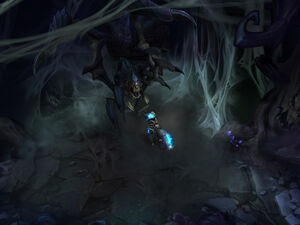 The jungle has three monster camps on each side. A monster camp respawns 75 seconds after all the monsters in the camp die. Each side has the same camps:
The only monster in the upper jungle is

Vilemaw. It spawns ten minutes into the game and respawns six minutes after dying. When a team defeats

Vilemaw it receives the
Crest of Crushing Wrath buff on all living team members, which provides several bonuses for a few minutes.
Trivia
Media
Patch History
Note:

Global turret changes are found at Turret#Patch History
References

Other Locations
Community content is available under
CC-BY-SA
unless otherwise noted.