Turbo Chemtank
is a
mythic item
in

League of Legends
.
Recipe
Cost Analysis
Gold Value
Gold Efficiency*
86.31%

gold efficient.
base stats are
Turbocharged Hexperiment
is a
mythic item
in

League of Legends
. Can only be forged by .
Recipe
Cost Analysis
Gold Value
Gold Efficiency*
125.71%

gold efficient.
base stats are
Similar items
Notes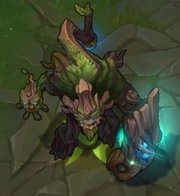 Turbo Chemtank's mythic passive can grant up to 25 ability haste with 5 other Legendary items.

Immolate

deals default damage, and thus will not trigger spell effects.

Immolate

is an auto-targeted effect.

Supercharged

has no cast time.

Supercharged

is not blocked by spell shield.
The aura increases if the user increases in size, but is not impacted by their base size.

The aura cannot get reduced below the base radii by negative size modifiers.

The

Immolate

aura does not deal lethal damage to large jungle monsters with buffs (i.e. and ). This is so that the burn does not accidentally steal a buff that's being donated.
Strategy
Turbo Chemtank's active is useful for chasing enemies down, especially for Tanks and Juggernauts who lack mobility and want to stick to their target as long as they can.

Immolate's

burning effect can help champions with otherwise poor wave clear to be able to efficiently clear minion waves. It also serves as a reliable source of damage in fights.
Trivia

Patch History
Ability haste increased to 20 from 15.
Magic resistance reduced to 25 from 50.
Mythic passive changed to 5 ability haste from 5% tenacity and slow resistance.
armor increased to 40 from 35.
magic resistance reduced to 40 from 65.
ability haste increased to 25 from 20.
Slow duration reduced to 1.5 seconds from 2.

Bug Fix:

Immolate range indicator now properly increases in size with the champion.

*
Bug Fix:

No longer grants bonus movement speed when moving towards a first-tier turret with plates and out-of-vision targets.
Base damage reduced to

12 − 30 (based on level)

from

20 − 40 (based on level)

.
Bonus minion damage reduced to 25% from 50%.
Bonus monster damage reduced to 150% from 200%.
Replaces .

Stats:

350 health, 15 ability haste, 25 armor, 50 magic resistance.

Unique Active - Supercharged:

For 4 seconds, grants 75% bonus movement speed and ghosting when moving towards a turret or visible enemy champion (2000 radius). After the duration or when an enemy champion is within

225

range, you emit a shockwave, slowing enemy champions within 450 range by 40% for 2 seconds (90 second cooldown).

Unique Passive - Immolate:

Taking or dealing damage activates this passive for 3 seconds. Deal

20 − 40 (based on level)

(+ 1% bonus health) magic damage per second to nearby enemies, increased by 50% against minions and 200% against monsters.

Mythic Passive:

Empowers your other Legendary items with 5% tenacity and slow resistance.
Limited to 1

Mythic

item.

Stats:

500 health, 20 ability haste, 35 armor, 65 magic resistance.

item: .
References
Starter items
Pots and Consumables
Trinkets
Distributed items
Boots
Basic items
Epic items
Legendary items
Mythic items
Ornn's Mythic item upgrades
Champion exclusive items
Minion and Turret items
Removed items
Community content is available under
CC-BY-SA
unless otherwise noted.