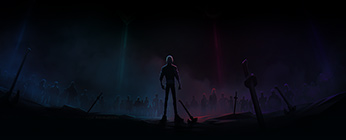 Trials 2019 was a mid-Season 2019 event that occured from May 2, 2019 to June 3, 2019.[1]
It featured four competitive houses, which each one representing a different type of League of Legends playstyle. Each player chose a house to compete for individual and house-wide rewards.
The houses
The Council

Intelligent – Strategic – All-Seeing
One step ahead

Strategic thinking and careful planning guides this group. Your acute awareness allows you to read opponents and find ways to win. You pride yourself on out-thinking your enemies; you're a natural shotcaller.
For those who use their game knowledge and awareness to out-think opponents.
The United

Selfless – Optimistic – Noble
Together we stand

Unburdened by ego, you win through team harmony and self-sacrifice. You are optimistic, resilient, and ready to charge into the face of danger for your team. When all seems lost, you're the one that starts the comeback.
For the self-sacrificing heroes who put their team above all else.
The Faceless

Creative – Offbeat – Playful
Unlike any other

It's tough to place someone who prides themselves on being creative and doing the unexpected. You're notorious for experimenting with off-beat styles, builds, and strategies that most wouldn't even consider. You especially love when the other team doubts you– right up until you're taking their Nexus.
For the wildcards who defy all expectation.
The Warband

Skilled – Aggressive – Ruthless
Witness our strength

This should come as no surprise. You're aggressive, skilled, and unafraid of a pivotal moment with the game on your shoulders. You enjoy the pressure of carrying a team and welcome the challenge of a skilled opponent.
For those who put the game on their shoulders with individual skill.
Quiz: Find Your House
During the event, a quiz was available to help players decide which house fits their playstyle more.
Question 1
Complete the phrase:
I'd die without my...
Freedom
Knowledge
Talent
Hope
Question 2
Select a response:
Pick an animal.
Owl
Leopard
Elephant
Octopus
Question 3
Complete the phrase:
Wars are won...
In the heat of battle
In the planning room
With unbreaking resolve
By the unpredictable
Question 4
Complete the phrase:
The perfect team would never...
Give up
Lose focus
Tell me what to do
Feed my opponent
Question 5
Select a response:
The enemy team is winning on all fronts. What do you do?
Outmaneuver them to steal some objectives
Rally my team for a final stand
Go pentakill them, like I always do
This is right where I want them– I'll explain later
Question 6
Select a response:
What's your favorite time of day?
Dawn
Day
Dusk
Night
Question 7
Select a response:
Which of these sounds like you?
"Can we please group"
"Trust me. I'm not trolling"
"ez"
"WINNABLE"
Question 8
Complete the phrase:
I want to be seen as a(n)
Selfless leader
Brilliant tactician
Crafty wildcard
Elite fighter
Result
The number of missions each house finished is counted as their score. The winning team will have an additional mission for their house golden emote.
On June 6 2019, it is revealed that the United house was victorious.[2]
Trivia
Trials, MSI, and Battle Academia were all incorporated into a simultaneous showcase.
Media
References
Community content is available under
CC-BY-SA
unless otherwise noted.