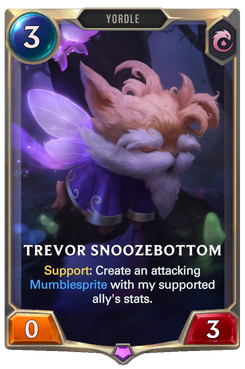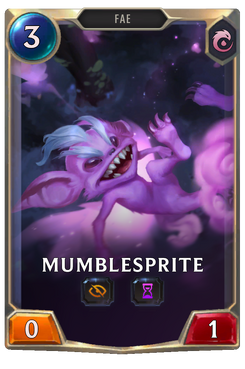 Lore
Everyone in Bandle City knows Trevor Snoozebottom. Night after night, he sleepdrifts through the city until some kind-hearted local finds him and steers him back home. But this time—having drifted through a portal and ended up in the Ionian Bandlewoods—he's really done it!
Someone will wake him up soon enough, but until then, his neighbors will have to put up with his meandering ways and the impish little fellows he creates with his incessant dreambabble.
Trivia
Internally:

Trevor Snoozebottom is called Drifting Dreamweaver or The Tulip.
Mumblesprite is called Purple Apparition.

He has a

4

 walking house.
Quotes
Allied

3Lulu present
Allied
4 Fae Guide present
Allied
2 Young Witch present
Change Log
Trevor Snoozebottom
V1.12
Mumblesprite
V1.12