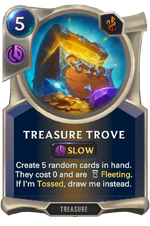 "
"These days, there's more treasure 'neath the waves than above 'em, I wager. Would be easy enough pickins, if 'tweren't for her."
—

1

Jagged Butcher, talking about the

7

Shipwreck Hoarder

Treasure is a group unique to a small set of

Bilgewater

spell cards.
Treasures currently can only be shuffled into your deck by
4Lost Riches or
7Shipwreck Hoarder.
The Treasure cards are thematically associated with the treasures that lie under the sea around

Bilgewater, guarded by sea monsters. This analogy is reinforced in their card text: Instead of being

tossed overboard, Treasures are instead salvaged (

drawn) from the sea.
Strategy
Since Treasure cards are not collectible, one can not include them in a deck. To use them, include

7

Shipwreck Hoarder instead.
Due to the nature of these cards, they can exclusively be found in decks with the

7

Shipwreck Hoarder, i.e. Deep decks.
Trivia
Treasure, along with Celestial and Tech, is one of three groups that only includes non-collectible cards.
This is the only group that contains only spell cards.
List of Treasure cards
List of cards generating Treasure cards
Community content is available under
CC-BY-SA
unless otherwise noted.