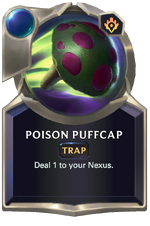 Trap is a card type in

Legends of Runeterra.
Traps can attach to (or 'be planted on') a card in a deck, trapping it. When a player draws a trapped card, the trap's effect triggers for that player. A card can have multiple traps on it.
Trivia
Internally, this is called Autoplay.
List of Trap cards
List of cards generating Trap cards
Community content is available under
CC-BY-SA
unless otherwise noted.