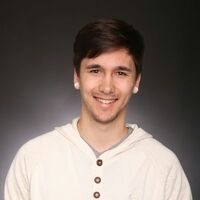 Thomas 'Green Teej' Bourous is the Lead Producer of

Teamfight Tactics at Riot Games.
About
As Lead Producer, TJ is ultimately accountable for the direction of TFT. He has to hold the short and long-term vision and direction of the product and prioritize the right features, work, and changes to the game. This involves being the bridge for all teams on TFT, from marketing to art to game design and making sure it all is cohesive and achieves their goals. He is also accountable for the team's overall health as well as advocating for more people if needed. His responsibilities include signing off on any major decision for TFT, allocating the resources to do it, approving the art direction for sets, creating the roadmap for what the team will do, and setting the goals the team wants to achieve with each set.
Contributions
Links
Leadership
Corporate
Production
Producer

Carl 'Status Kwoh' Kwoh
Mark Franz
Steven Snow
Thomas 'Green Teej' Bourus

Assistant Producer

Aaron 'Lindorn' Smith
Ryan 'RyanLaughlin' Laughlin
'TheGreatHembini'

Associate Producer

'Gifted Wolf'
Karen 'KarrieBear' Wnuk
'Stallion'

Miscellaneous Producer

Jason 'FastLoris' Lenny
'MrCrumb'

Operations

Chris Ward
Chris Collier
Nathan Ben-Attar

Engineering

Andrew Woo
Barry Livingston
Christopher McArthur
Cyriaque Kouadio
David Banks
David Eilering
George 'Fruitstrike' Skleres
Jianfei Liao
Joel Anderson
Jonathan McCaffrey
Kevin Borer
Kirk Black
Luke 'Rabid Llama' Rinard
Michael Root
Mike Matsumura
Ray Perez
Scott Delap
Scott Gelb
VerrDon Mason
Vic Keenan

Art
Narrative

Joe 'ManWolfAxeBoss' Lansford

Design
Game Design
Technical Design
Community

Quentin Chappet
Radosław Pasternicki

Quality Assurance
Customer Service
User Interface
Marketing

Andy 'fantasyworld' Ho
Chris Enock
Chris Heintz
Jeffrey Pfingsten
Laura 'Moneypenny' Brown
Kevin Cheung

Business Development
List of people without article