The village Xuanain is located in the southeastern part of Shon-Xan. It is located near the Kinkou Temple of Xuanain which was abandoned long ago until it became the new base of operation for the order after the death of Master Kusho during the Noxian invasion of Ionia. East of Thanjuul, high up in the mountains where glacial water ran. It was beside a lagoon of turquoise water, peppered with purple lantern florae. Although they were near the village of Xuanain, their haven was difficult to access, with its great elevation and surrounding hills.
Lore
The Kinkou had made sure no pursuers would stumble upon this location before they set up a solid base. The temple was in poor condition, and it was too small to fit them all, so the acolytes had built additional dwellings: huts constructed from fallen wood instead of magically woven from living trees—the usual Ionian way—in case they had to move again.
Champions of Xuanain
Culture
Spirit Blossom Festival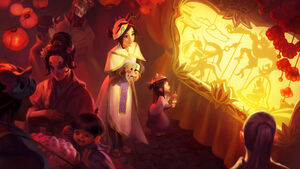 The Spirit Blossom Festival is an annual festival that happens all across Ionia to celebrate the blossoming of the Spirit Blossoms. Painters, musicians, calligraphers and other types of artists showcase their artistry to the public, especially children. When nightfall arrives and the Spirit Blossoms are at full bloom, the festival attendees gather at the nearest temple to release lanterns in the air while also giving respect to their fallen and deceased as well as wish for good fortunes. The festival also gives the chance for family members to communicate with their deceased loved ones. Assured that their living loved ones have moved on, the spirits are then able to finally move on to the afterlife. The war and bloodshed of the Noxian Invasion of Ionia had prevented the blossoming of the flowers, but eventually they have returned along with the festival. Some Noxians that live in or near the Noxian occupied areas of Ionia would also join in the festivity, though their presence is still met with some unease. Before the war, the infamous was finally captured at a Blossom Festival held in
Jyom Pass
in
Zhyun
province.
Trivia
Kinkou Monastery on the Universe map is placed at the northwestern part of the Navori region of Ionia. This location corresponds with the location of the Temple of Koeshin which was first mentioned in the Zed Comics. Currently it is unconfirmed if the Temple of Koeshin is the "Kinkou Monastery", but due to the larger Kinkou lore update done through the Zed comics, the Universe map might be altered in response to this.
It is currently unconfirmed if the Temple of Koeshin is the main headquarters of the Kinkou, since the Temple of Xuanain functioned as the main base of operations after the death of Master Kusho, which was during the Noxian invasion of Ionia.
Media
See Also
References
Community content is available under
CC-BY-SA
unless otherwise noted.