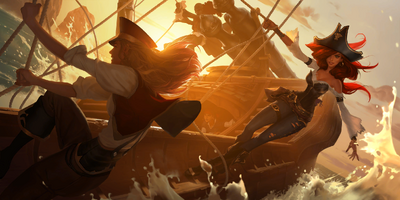 "
There's no mistaking the Syren. Her broad pearly sails and polished woodwork leave her as sleek and decorated as the captain at her helm.
—

7

 The Syren
One of the youngest pirate crews in

Bilgewater,
Syrens were established by

Miss Fortune. After the Burning Tides the power balance in Bilgewater has shifted with the crew of the Syren now being at the forefront of the cities politics. The crew was instrumental in defending the city from the
Shadow Isles harrowing.
Lore
Champions of the Syrens
Other Related Champions
is crossed paths with in the past.
Jagged Hooks are enemies and rivals to the Syrens.
and the
is crossed paths with in the past.
Wildlife
Powder Monkeys
Powder Monkeys are simian creatures that originate from a Monkey Idol currently located on the Serpent Isles. The are small of stature with fur that has a gunpowder color and glowing yellow eyes. They often live gather around people or areas where there is a heavy use of gunpowder, hence their names. They are mischievous, but can prove useful in enhancing gunpowder related weapons with unknown magical powers.
Government
Members
Media
See Also
References
| | |
| --- | --- |
| Bandle City | |
| Bilgewater | Boatman · Buhru · Harpooners · Jagged Hooks · Syrens |
| Darkin | |
| Demacia | Buvelle House · Crownguard House · Dauntless Vanguard · Demacian Rangers · Dragonguard · Illuminators · Laurent House · Lightshield House · Mageseekers · Sentinels of Light · Spiritmight House · Vayne House |
| Freljord | Avarosan · Black-Clads · Broken Tooth · Chosen Children · Draklorn · Ebrataal · Frostguard · Frost-Trolls · Ice Children · Ice Veins · Mourncrow · Notai · Red Snow · Snow Followers · Stonepicks · Stone Tooth · Tryndamere · Tusk Crow · Ursine · Vargkin · Winter's Claw |
| Icathia | |
| Ionia | Hirana Order · Houhjo · Kinkou Order · Navori Brotherhood · Shadow Order · Shojin Order · Wuju Order · Zhyun |
| Ixtal | |
| Noxus | Arcane Fist · Black Rose · Bloodrunners · Crimson Circle · Darkwill House · Du Couteau House · First Legion · Fury Company · Kythera House · Mordekaiser · Reckoners · Redblades · Swain House · Tallymen · Trifarian Legion · Trifarix · Warmasons Order · Zaavan House |
| Piltover | Arvino Clan · Cadwalder Clan · Ferros Clan · Giopara Clan · Holloran Clan · Kozari Clan · Medarda Clan · Morichi Clan · Piltovan Bureau of Safety Inspections · Piltover Explorers Guild · Piltover Wardens · Torek Clan |
| Runeterra | Arbormark · Aurma · Boleham · Camavor · Harelport · Holdrum · Kumangra · Kalstead · Mudtown · Nockmirch · Palclyff · Paretha · Sentinels of Light · Skaggorn · Stonewall · Tokogol |
| Shadow Isles | |
| Shurima | Azir · Bel'zhun Suns · Disciples Of The Armordillo · Shakkal Raiders · Xerath |
| Targon | |
| Vastaya | Besheb · Chyra · Fauhwoon · Makara · Marai · Juloah · Khonlui · Kiilash · Lhotlan · Ophelis · Ottrani · Oovi-Kat · Raylu · Shimon · Sodjoko · Strig |
| Void | |
| Zaun | Academy of Techmaturgy · Artega Holt · Chem-Jacks · Chem-Punks · Chem-Thugs · Crimson · Marko Volkage · Petrok Grime · Saito Takeda · Sump-Scrappers · The Sons of Ur · Velveteen Lenare · Vigilnauts · Voss · Wencher Spindlaw |