The Summoner's Rift is the most commonly used Field of Justice.
The map was given a graphical and technical update on May 23rd, 2012 and remade from scratch on November 12th, 2014.
Lore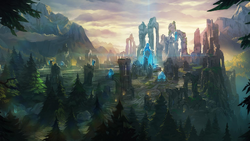 Summoner's Rift is located in a remote forest between Freljord, and the Ironspike Mountains. The Summoner's Rift is one of a few locations in Valoran where magical energy is at its greatest concentration, making it a highly sought-after locale to pursue magical endeavors.
The structure, according to Ornn, is made of Noxian Granite.
History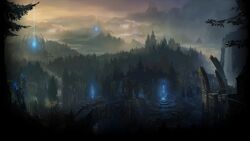 The Rune War began with the failure of a legal body founded to curtail political power—when this institute faltered, the fate of all was sealed. Historically, the forest where the Rift resides was the site of several battles between two summoner factions symbolized with the Stag and Owl crests.
The Stag, or the Protectorate, was an order dedicated to enforcing a rigid, unforgiving system of laws, in an attempt to slow the seemingly inevitable rise of the Magelords.
The Owl, or the Magelord, was a culture which once conquered more than half the world at the dawn of civilization. It was strictly segregated into brutal warrior-castes, whose rise and fall was dictated by their victories in battle. Though the great armies of the Magelord Empire have vanished into antiquity, their modern descendants uphold the vicious brutality of their ancestors.
Marauders are the remnants of that once powerful empire just as the Wardens are the remnants of the Protectorate order.
Wildlife
The large amount of concentrated magic has mutated the local wildlife. From

giant frogs,

giant birds to

two headed wolves it has also attracted the attention of a powerful

Dragon who currently resides in one of the battle torn ruins.

Sentinels, Bramblebacks Bramblebacks and

Krugs are creatures made from local flora and earth infused to construct a magical being. The Rifts unstable magic has inadvertently caused the reemergence of

Baron Nashor, a large Serpent/Worm largely believed to be dead for centuries. It has his corruption affecting the land around him.
Other known creature that live in this area are species of forest chameleons, ducks, Antlermice, Porowls, dragonflies and butterflies.
Gameplay
Features
Trivia
Media
See Also
References
Community content is available under
CC-BY-SA
unless otherwise noted.