Notes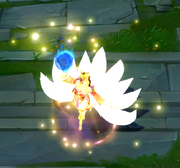 Trivia
The idea of a Stop Watch that can stop time comes from the fantasy of a magic stopwatch.

Patch History
No longer builds into Nexus Blitz being no longer available for play-testing.
, due to the
Re-added back to the recipe for
.
Removed from recipe for
, due to the item being removed from the game.
Unique Active - Stasis:

Put yourself in  Stasis for 2.5 seconds, rendering yourself untargetable and invulnerable for the duration, but also unable to move, attack, cast spells, or use items during this time. Transforms into , which cannot be activated but can still be upgraded. Future purchases are also broken.

Builds into:

, , , .
Can also be obtained with .
References
Starter items
Potions and Consumables
Trinkets
Distributed
Basic items
Advanced items
Finished items
Minion and Turret items
Special Game Mode Exclusive items
Removed items
Community content is available under
CC-BY-SA
unless otherwise noted.