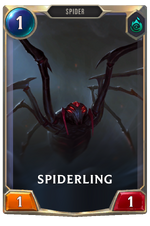 "
    "Stay away from my pets!"
—

2

Elise

Spider is a group unique to a small set of

Noxus and

Shadow Isles cards.
The Spider cards are thematically associated with the spiders from

2Elise.
Strategy
Trivia
The Fearsome keyword on the cards is likely based on Arachnophobia, the fear of spiders.
The Noxian cards are all from Elise's mansion, while the Shadow Isles cards are presumably close to Vilemaw's Lair.

An interesting case is

3

 Frenzied Skitterer, with the altar and region indicating it is on the Shadow Isles, but the flavor text seems to be in Noxus.
This shows that Elise brought some of her "pets" from the Shadow Isles back to Noxus with her.
List of Spider cards
List of cards generating Spider cards
See Also
Community content is available under
CC-BY-SA
unless otherwise noted.