"You belong in a museum!"

This article or section may contain obsolete information, but exists here for historical purposes.

This item has been removed on patch V10.23.
Spellbinder was a legendary item in

League of Legends.
Recipe
Cost Analysis
Gold Value
Gold value from 100 stack active
Gold efficiency
103.62%

gold efficient.
base stats were
When activated at 100 stacks,

231.72%

gold efficient.
becomed
Similar items
Notes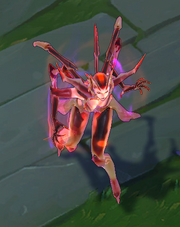 The bonus movement speed starts decaying 0.5 seconds after activation.
Strategy
Having a spammable ability (
) is helpful in racking up stacks through self-charges.
Shapeshifting (as in stance shifts like ), ability reactivations or toggles will not count towards Spellsteal.

is strong in the early game, especially on AP assassins such as . This is because it offers an active that greatly increases their output damage, which is most effective in early game as the AP boost is flat.
Trivia
The item's icon is a recolor of
.

Patch History
Ability power increased to 120 from 100.
Active ability power reduced to

0 − 80 (based on charges)

from

0 − 100 (based on charges)

.
Active bonus movement speed increased to

0% − 50% (based on charges)

from

0% − 30% (based on charges)

.
Bug Fix: Fixed a tooltip bug where selling it then undoing the sell would restore the stacks you had before selling, but cause the counter on the buff bar to visually restart.
Stats: +100 ability power, +10% movement speed.
Unique Passive - Spellsteal: Gains a Spellbinder charge each time a nearby enemy or allied champion, including yourself, uses an ability, up to a maximum of 100 charges.
Unique Active - Spellburst: Grants

0 − 100 (based on charges)

ability power for 4 seconds, and

0% − 30% (based on charges)

bonus movement speed decaying over 4 seconds (60 second cooldown).
References
Starter items
Potions and Consumables
Trinkets
Distributed items
Boots
Basic items
Epic items
Legendary items
Mythic items
Ornn's Mythic item upgrades
Champion exclusive items
Minion and Turret items
Removed items