Raise a Floppa - The Loop
Play Sound
Note: Not to be confused with magic shield.
For the Legends of Runeterra mechanic, see SpellShield.
General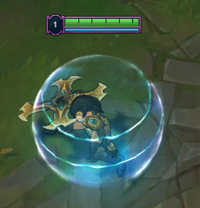 A spell shield refers to one of several effects that have the capacity to negate hostile abilities from applying to the recipient.
Spell shield negates effects coming from champion abilities, monsters, champion summoned units, items, and a select few runes but not summoner spells and persistent effects from AoE DoT and passive DoT effects unless otherwise stated.
The shielding can vary per case with other included mechanisms such as on-hit effects and subsequent targeting ( ).
Abilities applying multiple instances of damage (e.g.
, , ) will have a single instance of their damage prevented.
Some abilities that have already applied onto the target (e.g.
, , ) do not get blocked.
Some empowered basic attacks will also trigger spell shield (e.g. , , ) but the damage being blocked, either total, bonus, or none, is case by case.
Single ability
The following will block a single enemy ability or spell:
Champion abilities
Items
Notes
Patch History
Unknown patch
Spell shield no longer blocks multiple hostile abilities if they struck at the same time the shield breaks. However, all hits will still be blocked if they come from the same ability (i.e multiple ; ).
Added with the release of
.