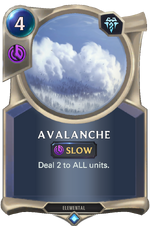 Slow is a spell speed in

Legends of Runeterra.
Slow spells can only be played outside of combat and when there's nothing on the Spell Stack. Only one Slow spell can be played in a turn, but any number of Fast spells can be declared during the same turn. Slow spells can only be on the first place on the Stack. The opponent can respond with their own spells following the rules of the Spell Stack.
Trivia
Internally, this is called Channel.
List of Slow cards
List of cards generating Slow cards