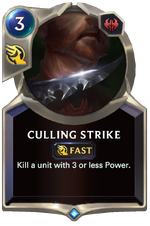 Fast is a spell speed in

Legends of Runeterra.
Fast spells can be played at any time during the user's turn (including during combat and while there's spells on the Stack), multiple can be played in a turn in any order, and they can be played alongside a Slow spell, though they have to be above it on the stack. Fast spells allow the opponent to respond with their own spells.

Fast spells committed while attacking are responded to (for the first response) at the same time as blockers are committed. Further responses happen using normal Spell Stack rules, and then the spells resolve just before the units in combat strike.
List of Fast cards
List of cards generating Fast cards
Community content is available under
CC-BY-SA
unless otherwise noted.