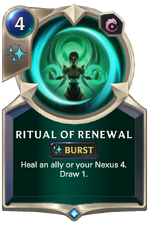 Skills are NOT Spells, but they share many mechanics with Spells which are explained here, it will be specified if mechanics apply to them too.

Spells are a type of non-

unit card that can be

played to trigger an effect. Spell cards are indicated by a round frame around the artwork, rounded artwork, and text below the artwork, rather than on it. They represent actions, magic, or events that either could or do exist on

Runeterra or in the greater

 Universe.
Mechanics
To play a spell card, a player must pay the

Mana cost. If the player has any
Spell Mana left, the spell will use up Spell Mana before tapping into normal Mana. To play a non-

Burst spell, the Button needs to be pressed to play and commit.
Spell Stack
If a player commits a

Slow or
Fast spell, or a

Skill is committed, a spell stack starts. Each player then takes turn playing Fast or

Burst spells until one player doesn't

play a spell and passes. Only 9 Fast or Slow spells can be on the stack at a time, while a 10th spot is reserved for potential Burst spells. It is possible for a spell higher on the stack to nullify one below, such as by removing a unit that it requires to trigger its effect, or by the former's effect preventing the latter spell from casting.
When the stack is full, no new Fast spells can be committed, only Burst spells can be played and committed, which resolve immediately. It is possible to play Burst spells from the hand in spells in quick succession from the hand, which wait for the current Burst spell on top of the stack to resolve before taking its place.
When both players don't play a spell and pass instead during a spell stack, the spells all cast, in the order of the last spell played occurring first (hence the name). If the outcome has no randomness, a player can use the Oracle's Eye to view how the current spell stack will resolve.[1]
Play Requirements
Main article: Play
Spells will usually require that their specified condition to cast be met at the time they are played, to play, even if it would be met after the spells before it on the Stack cast.
On the Wiki, an effort is being made to note where this applies and where it doesn't in card descriptions. If occasions where it is not noted are found, please note them by editing Module:LoRData/data.
Fizzling
EditA

Spell or

Skill Fizzling means it is

obliterated before it

resolves while committed to the Spell Stack.
Spells and Skills on the stack that require a condition to cast that is no longer fulfilled or all of the targets of are no longer valid at the time they are reached on it, will Fizzle.
Cards granting Fizzle
Type of spells
Speed
There are 3 different speeds of Spell cards which dictates when they can be played. The speed of a card is indicated by an icon on the top-left of the card, the shape of the border of the card, and the keyword on the top of the card text.
Fast

Fast spells can be played at any time during the user's turn, multiple can be played in a turn, and they can be played alongside a Slow spell, though they have to be above it on the stack. Fast spells allow the opponent to respond with their own spells.

Fast spells committed while attacking are responded to (for the first response) at the same time as blockers are committed. Further responses happen before the attackers strike.

Burst

Burst spells resolve instantly after being committed. The enemy can't act before it finishes.

They can be committed at any time during the user's turn. They do not add to the stack, create a stack, or end the caster's turn, they commit as soon as any requirements are declared, eg. targeting units, they cast as soon as they are committed without a chance to confirm nor react.

Skills can appear to be Burst, but they are responded to the same as fast spells.
Champion Spells
While there is a

Champion in play, all copies of that card in hand turn into a "Champion Spell" card. This card is a variant of an existing collectable spell card that will also shuffle the champion into the deck when cast, in addition to its usual effect. These cards transform back into champions as soon as the champion is no longer in play.
List of Cards
References
Community content is available under
CC-BY-SA
unless otherwise noted.