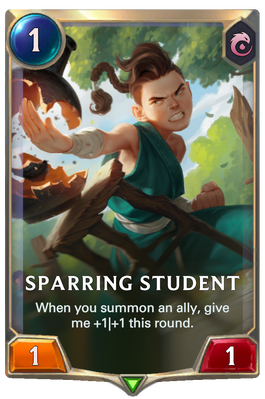 Tutorial Version
Quotes
 "Check out these moves!"
 "Ready, willing, and learning."
 "What's today's lesson?"
 "I could learn from watching you!"
 "What do you call that technique?"
 "Just like we practiced."
 "How'd you do that?"
Allied Shen
 "The Eye of Twilight sees all."

 "Master! I'm... honored."
Sparring Student:

Shen:
Allied Yasuo
 "I go where the road takes me."

 "Are you the one with wind technique?"
Sparring Student:

Yasuo:
Allied Zed
 "I am the blade in the darkness."

 "Are you supposed to be here?"
Sparring Student:

Zed:
 "Yah!"
 "Sweep the leg!"
 "And punch!"
 "Focus, focus."
 "Oh you're in for it."
 "Left foot, left foot!"
 "Next time!"
 Sparring Student groans.
Trivia
Internally, this card is called Ambitious Student or Determined Student.
The younger version of him appears in the background of Inspiring Mentor.
Media
Community content is available under
CC-BY-SA
unless otherwise noted.