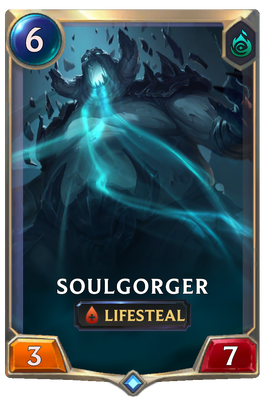 Quotes
 "Living, dead, no matter."
 "I cannot be sated."
 "Husks in my wake."
 "Slaughter the living."
 "They'll learn to fear me."
 "Another soul!"
 Soulgorger laughs evilly.
 "Already forgotten."
 "This morsel."
 Soulgorger makes a noise.
 "Ohh, ho ho."
 Soulgorger laughs evilly.
 "No..."
 Soulgorger gasps.
Trivia
Internally, this card is called Voracious Soulgorger.
In alternate artwork, the corpses of the soldiers were removed, as well as the scenery and perspective were slightly changed.
Community content is available under
CC-BY-SA
unless otherwise noted.