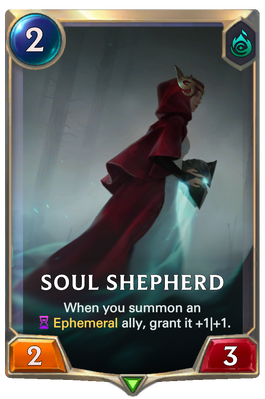 Quotes
 "I am the light beyond life."
 "Does death follow me, or peace?"
 "Come, the journey ahead is long."
 "Do not fear death."
 "Silence, death comes."
 "Accept your fate."
 "Be still now."'
 "Your ancestors await."
 "My flock..."
 Soul Shepherd groans.
Trivia
Internally, this card is called Deathly Companion or Soothsayer.
In alternate artwork, the corpses of the soldiers were removed.
Media
Community content is available under
CC-BY-SA
unless otherwise noted.