Fire Emblem Warriors: Three Hopes - The Loop
Play Sound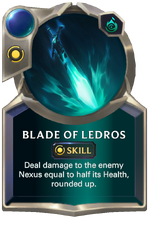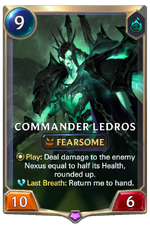 Skill is a card type in

Legends of Runeterra.
A spell-like card that can be committed by a unit. Goes on the Spell Stack like a Fast or Slow spell.

Skills are committed to enact a unit's card text in a way that can be reacted to. If card text creates a Skill, there will usually be an icon before the text to indicate this.

The text of skills is usually written as if it's on the unit itself, but they count as their own card. In particular, damage dealt by a skill is not dealt by the generating unit.
Trivia
Internally, Skills are also called "Ability".
Skill was the first keyword to retroactively be given an icon. Initially, the only way to know whether a card would create a skill was to check the cards associated with it.
Skills on the stack used to appear to have a random speed, and elsewhere they would always appear to be Fast, until their border was changed.
Skills used to appear to be a random spell speed, however they now have a blank spell border with no mana cost and the Skill icon in place of the speed, but with the appearance of a Fast spell otherwise - this border and change is shared with Traps, though Traps had additional incongruities, and have no icon.
List of Skill cards
List of cards generating Skill cards
Change Log