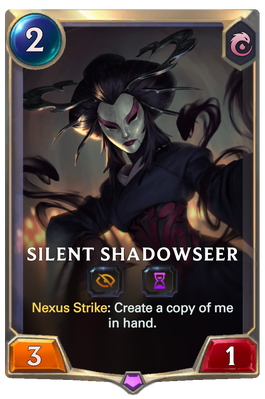 Quotes
 "The shadows take form."
 "I have unfinished business."
 "Am I flesh or shadow?"
 "Night falls, shadows gather."
 Silent Shadowseer laughs.
 "Shadow take you!"
 "You're left unguarded."
 "You have nothing to gain."
 "You know not what you do."
 "A shadow of my power."
 "We'll meet again."
 "This is not over."
 "See you soon."
Trivia
Internally, this card is called Spiteful Blade.
She is voiced by Krizia Bajos, who also voices League of Legends.[1]
in
Media
References
Community content is available under
CC-BY-SA
unless otherwise noted.