Shurelya's Reverie
is a
finished item
in
League of Legends
.
[1]
Recipe
Cost Analysis
Gold Value
Gold Efficiency*
105.22%

gold efficient without its active effect.
is

175.44%

gold efficient when activated due to always affecting its user.
becomes
Similar Items
Notes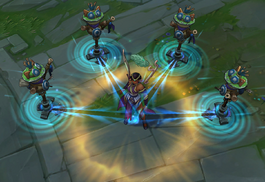 The active does work on allied pets and minions.
Strategy
movement speed boost is especially useful for the advantage it provides a team when initiating or exiting a teamfight.
Old Icon
Trivia
This crown belongs to Shurelya, a historian who studies Shuriman artifacts.
This item is named after Miyuki 'Shurelia' Mitsuhashi, a former Associate Game Designer at Riot Games Inc.

The decision to give this item a  movement speed boost is due to an inside joke at Riot. Shurelia has a very high voice; therefore the co-workers joked that it was only so high due to the Doppler effect and that Shurelia moved so quickly.

This item provides the second highest  movement speed buff from an item when activated (10% less than ).

Patch History
New Effect:

Now grants 100% base mana regeneration.
Unique passive bonus movement speed reduced to 5% from 8%.
Active cooldown increased to 90 seconds from 60.
Bug Fix:

Activating it will no longer cancel channels.
New item icon.

New Stats:

+40 ability power, +200 health.

Unique Passive:

+10% cooldown reduction.

Unique Passive:

+8% movement speed.

Old Stats:

+10% cooldown reduction, +250 health, +10 health regeneration, +10 mana regeneration.

Unique Active unchanged.
Only available on Summoner's Rift and Howling Abyss.
Removed from the game.
Replaced by
Cooldown reduction is no longer

Unique

.
Health reduced to 250 from 330.
Health regeneration reduced to 10 from 30.
Mana regeneration reduced to 10 from 15.
Cooldown reduction reduced to 10% from 15%.
New Effect:

Now grant assists if using the active helps get a kill.
Movement speed duration increased to 3 seconds from 2.
Health regeneration per 5 seconds increased to 30 from 25.
Mana regeneration per 5 seconds increased to 15 from 12.
References
Starter items
Potions and Consumables
Trinkets
Distributed
Basic items
Advanced items
Finished items
Removed items
Community content is available under
CC-BY-SA
unless otherwise noted.