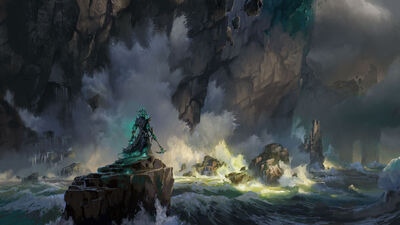 For the lore region, see Shadow Isles.
The

Shadow Isles is a

Legends of Runeterra

regional card set based on the canon region of the
Shadow Isles, and has elements from the
 K/DA universe.
Shadow Isles decks are all about making sacrifices to gain power. They feature powerful removal cards and are the only region with access to Kill an Ally, Drain, Steal mechanics. They are also the only region that can return units from the dead.
Main Mechanics: Allied & Enemy
Death,
Can't Block, Copy, Exact Copy,
Kill,

Nightfall,

Deck ObliterateSee: Mill,

Drain, Allied

Ephemeral (+Bonuses in exchange),

Fearsome,

Last Breath,

Lifesteal, ,

Revive,

Summon,

Toss
Lesser Mechanics: Direct damage,

Deep,


Nexus damage,
Spell Mana,

SpellShield
Description

Death and Sacrifice
The

Blessed Isles were once a thriving, fertile land...until the king of the Isles, beset by grief, sought to defy the natural order of the world, bringing ruination to the land. Now the
Shadow Isles, veiled by the sinister shroud known as the Black Mist, leech life from any creature who dares step foot on those cursed shores. Do you dare turn your gaze to the Shadow Isles?
List of Cards
Trivia
Media
References
Community content is available under
CC-BY-SA
unless otherwise noted.