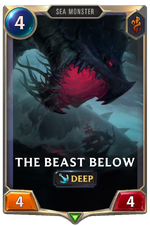 "
"Sailors speak in hushed tones of dark days to come; when the seas churn and boil, and unspeakable horrors rise from the waves."
— On

3

Lure of the Depths

Sea Monster is a group unique to a small set of

Bilgewater, and even smaller set of

Shadow Isles

followers. The main distinction they have in-game is their universal usage of the

Deep keyword, and their synergy with

7Nautilus.
The Sea Monster cards are the horrors that roam the seas of

Runeterra, particularly the depths around the

Serpent Isles and the oceans surrounding the
Shadow Isles. Many appear to be corrupted by the Black Mist or

The Void, and many of the monsters are large parts of

Bilgewater's traditions.
The Sea Monsters are thematically associated with the fear of the impending death they bring, and of the unknown or unknowable.
Strategy
Decks with Sea Monsters often use Toss to reach Deep faster. Once they reach Deep, they have access to very powerful, cheap units.
Trivia
List of Sea Monster cards
List of cards generating Sea Monster cards
See Also
Community content is available under
CC-BY-SA
unless otherwise noted.