Scarecrow Effigy
is a
trinket item
in
League of Legends
 for .
Notes
Effigies are  clones; they copy all of animations, stats, items, level, etc.

These update dynamically even after being placed.
This is only visible to enemies.

Fake actions include:

away from the champion.
Walking towards the champion.
Walking away from the champion.
Casting
.
Channeling
.

Effigies only activate if the enemy champion has  sight of them.
Trinket items ( , , and ) cannot be exchanged with Scarecrow Effigy.

It can be replaced by the
.

quest items ( , , , ).

There is no limit on how many Effigies can be placed at any one time, and they do not count toward the  Stealth Ward limit.

can still purchase
Effigies can be targeted by .

However, they cannot be targeted at close proximity, there seems to be a minimum range in which Teleport can be cast upon an Effigy.

Placing an Effigy requires

vector-targeting

.
The  cooldown is reduced by .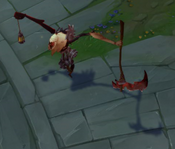 Patch history
V10.7 Added
Trinket – No Cost

Unique Active:

Places an  Effigy that lasts

130 − 280 (based on level)

seconds (

115 − 30 (based on level)

second cooldown). The Effigy visually appears exactly as does to enemies. Enemy champions approaching an Effigy will activate it, causing the Effigy to fake a random action, after which the Effigy will deal 1 damage to itself.
References
Starter items
Potions and Consumables
Trinkets
Distributed
Basic items
Advanced items
Finished items
Minion and Turret items
Special Game Mode Exclusive items
Removed items
Community content is available under
CC-BY-SA
unless otherwise noted.