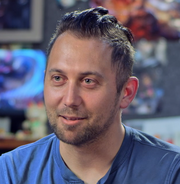 Ryan 'Reav3' Mireles is the Lead Champion Producer for

League of Legends at Riot Games.
About
Reav3 was previously a Gameplay and Systems Producer on God of War at Sony Interactive Entertainment before joining Riot Games as a Product Manager on the Champions team.[1] The Champions team is the team responsible for the creation of new champions and visual gameplay updates. As the Product Manager of the team he decides which strategies the team should execute such as: which champions to rework, what kinds of champions to make, how many champions or reworks to make, and setting the product goals for each project.
Contribution
Links
References
Leadership
Corporate
Production
Producer

Carl 'Status Kwoh' Kwoh
Mark Franz
Ryan 'Reav3' Mireles
Steven Snow

Assistant Producer

Aaron 'Lindorn' Smith
Ryan 'RyanLaughlin' Laughlin
'TheGreatHembini'

Associate Producer

'Gifted Wolf'
Karen 'KarrieBear' Wnuk
'Stallion'

Miscellaneous Producer

Jason 'FastLoris' Lenny
'MrCrumb'

Operations

Chris Ward
Chris Collier
Nathan Ben-Attar

Engineering

Andrew Woo
Barry Livingston
Christopher McArthur
Cyriaque Kouadio
David Banks
David Eilering
George 'Fruitstrike' Skleres
Jianfei Liao
Joel Anderson
Jonathan McCaffrey
Kevin Borer
Kirk Black
Luke 'Rabid Llama' Rinard
Michael Root
Mike Matsumura
Ray Perez
Scott Delap
Scott Gelb
VerrDon Mason
Vic Keenan

Art
Narrative

Joe 'ManWolfAxeBoss' Lansford

Design
Game Design
Technical Design
Community

Quentin Chappet
Radosław Pasternicki

Quality Assurance
Customer Service
User Interface
Marketing

Andy 'fantasyworld' Ho
Chris Enock
Chris Heintz
Jeffrey Pfingsten
Laura 'Moneypenny' Brown
Kevin Cheung

Business Development
List of people without article
Community content is available under
CC-BY-SA
unless otherwise noted.