Fire Emblem Warriors: Three Hopes - The Loop
Play Sound
"You belong in a museum!"

This article or section may contain obsolete information, but exists here for historical purposes.

This item has been removed on patch V10.23.
Runic Echoes was an enchantment in

League of Legends. It was exclusive to Summoner's Rift.
Recipe
Possible Upgrades for
Cost Analysis
Gold Value
Gold efficiency
161.78%

gold efficient.
base stats were
Due to being an Enchantment, for this calculation it should be considered that this item is combined with either or .
Similar items
Notes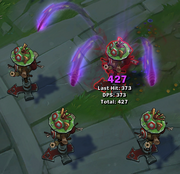 replaces that itself replaced the enchantment.
spell effects, regardless of the type of damage.
same as will trigger on any source of damage which triggers
Each ability cast will generate 10 charges.

Toggled and transformation abilities do not trigger on-cast effects, and thus do not grant charges. Examples include
, , / , and .

Moving by any means provides 1 charge for every 35 in-game units traveled. This includes but is not limited to simple movement, using dashes or blinks, being moved while attached to another unit or being displaced to another location.
The damage dealt by Runic Echoes applies spell effects as area damage.

Spell vamp is reduced to one-third effectiveness.
will apply a 20% slow.

Note that Runic Echoes does not affect the classification of the triggering ability - a single-target ability, such as
, is still treated a single-target ability for applying its own spell effects.
Runic Echoes will not apply champion-specific spell effects, such as
, nor duplicate the effects of a champion ability (e.g. will not blind all enemies hit and will not generate AP for every enemy hit).
The following empowered attacks and attack bonus effects will trigger Runic Echoes's damage, as they deal spell damage or area damage, or at least 0 spell damage in addition to their basic attack damage:

meeps)
(
and
activation effect) and (persistent effect)
(
Icons
Patch History
Added as possible enchant upgrade for
.
Now grants 10% cooldown reduction.
Now grants 300 mana.
Removed: +7% movement speed.
Can no longer build from
, due to the item being removed from the game.
Echo large monster hit mana restoration increased to Unique Passive – Echo: Moving and casting generates charges, up to 100. At 100 charges, the next instance of ability damage you deal will expend all charges to deal 80

Echo deals

「 250% 」

「 200

References

Starter items

Potions and Consumables

Trinkets

Distributed items

Boots

Basic items

Epic items

Legendary items

Mythic items

Ornn's Mythic item upgrades

Champion exclusive items

Minion and Turret items

Removed items