Rod of Ages is a finished item in

League of Legends. It is exclusive to Summoner's Rift.

Recipe
Rod of Ages (Quick Charge) is a finished item in

League of Legends. It is exclusive to Howling Abyss.

Recipe
Cost Analysis
Gold Value
Full Gold Value
Gold Efficiency*
97.12%

gold efficient without its passive and

156.47%

gold efficient at max stacks.
is
On manaless champions the item is

80.96%

gold efficient without the passive and

134.94%

gold efficient at maximum stacks.
Similar Items
Notes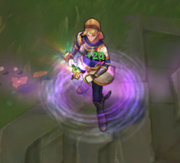 The

Eternity

passive will trigger with effects like  active and  passive.
If the owner is protected with a shield and receives damage, they will continue to restore mana.
The additional stats over time are not unique. One can have multiple
while all of their stats simultaneously increase.
Strategy
Because this item takes

10 minutes

to reach its full potential, it is best obtained early on in the game. 
It is a strong item for casters in need of durability, mana, and power.

Awe

passive will grant

9

bonus ability power from mana.

The early
and are useful in lane for the healing sustain and increased mana pool. The only downside to this build is that / and take considerable time to stack.

can be very effectively combined with an because the
Trivia
may have been originally named as "Guinsoo's Rod of Oblivion", and its icon is still named as such in the League of Legends install directory.
uses the .
The name is likely a reference to Def Leppard's 1983 song "Rock of Ages". (The movie of the same name, which is also named after the song, was not released until 3 years after the item came out.)
The Crystal Scar during Rotating Game Modes.
version is also used on the
Patch History
Replaced normal version on the Howling Abyss.
Eternity: Mana to health conversion reduced to 20% from 25%.
Ability power reduced to 60 from 80.
Mana reduced to 300 from 400.
Mana per stack reduced to 10 from 40.
New Passive effect - Eternity: 15% of damage taken from champions is gained as mana. Spending mana restores 25% of mana spent as health, up to 25 per cast (toggle spells heal for up to 25 per second).
Health reduced to 300 from 450.
Mana reduced to 400 from 450.
Mana per stack increased to 40 from 20.
Ability power per stack increased to 4 from 2.
Now displays the current stacks over the icon.
No longer loses stacks when selling the item and then undoing the sale.
Map-specific version added for Crystal Scar.
Mana reduced to 450 from 525.
Health per stack increased to 20 from 18.
Passive – Valor's Reward:

On level-up heal reduced to 150 from 250.
Now retains
passive when upgraded, with both remaining Unique so they cannot stack.
Now show you in its tooltip what the current stats on its passive are.
Health increased to 450 from 360.
Mana increased to 525 from 425.
Ability power increased to 50 from 30.
Health per stack reduced to 18 from 27.
Mana per stack reduced to 20 from 30.
Ability power per stack reduced to 2 from 3.
Maximum stats unchanged.
Health reduced to 425 from 450.
Mana reduced to 425 from 450.
References
Starter items
Potions and Consumables
Trinkets
Distributed
Basic items
Advanced items
Finished items
Minion and Turret items
Special Game Mode Exclusive items
Removed items
Community content is available under
CC-BY-SA
unless otherwise noted.