Raise a Floppa - The Loop
Play Sound
For its successor, see .
"You belong in a museum!"

This article or section may contain obsolete information, but exists here for historical purposes.

This item has been removed on patch V10.23.
Righteous Glory was a legendary item in

League of Legends.
Recipe
Cost Analysis
Gold Value
Gold efficiency
100.13%

gold efficient.
base stats were
While active,

211.92%

gold efficient.
is
Similar items
Notes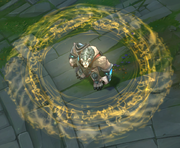 The proximity check increases in size if their users increase in size.
Trivia

Patch History
Removed from the game.
Replaced by .
Health reduced to 400 from 500.
Armor increased to 30 from 0.
Cooldown reduction increased to 10% from 0%.
Removed Passive: Eternity: 15% of damage taken from champions is gained as mana. Spending mana restores

20% of mana

spent as health, up to 25 health per cast (Toggle spells heal for up to 25 per second).
New Effect: Active slowing nova now automatically triggers if an enemy champion is within close proximity.
Removed: Active slowing nova being triggered manually early.
New Effect: Tooltip now mentions number of takedowns enabled by the shockwave.
Bug Fix: Now properly grants movement speed when moving toward champion clones.
Mana into health reduced to 20% from 25%.
Grants Unique Passive - Eternity: 15% of damage taken from enemy champions is gained as Mana. 25% of Mana spent is gained as health, up to 25 health per spell cast or 25 health per second for toggled spells.
Removed: Active speeds up allies.
Active's movement speed increased to 75% from 60%.
Active's movement speed duration increased to 4 seconds from 3.
Active's slow reduced to 75% from 80%.
Active's slow duration increased to 2 seconds from 1.
Health reduced to 500 from 600
Cooldown increased to 90 seconds from 60 seconds
Health reduced to 600 from 650.
Fixed a bug where you wouldn't get the active movement speed running towards turrets and capture points.
Health increased to 650 from 500.
+500 health, +300 mana, +100% base health regeneration
Active: ACTIVE Grants +60% Movement Speed to nearby allies when moving towards enemies or enemy turrets for 3 seconds. After 3 seconds, a shockwave is emitted, slowing nearby enemy champion Movement Speed by 80% for 1 second. This effect may be reactivated early to instantly release the shockwave. (60s cooldown).
References
Starter items
Potions and Consumables
Trinkets
Distributed items
Boots
Basic items
Epic items
Legendary items
Mythic items
Ornn's Mythic item upgrades
Champion exclusive items
Minion and Turret items
Removed items