Riftmaker
is a
mythic item
in

League of Legends
.
Recipe
Cost Analysis
Gold Value
Gold Efficiency*
101.79%

gold efficient.
base stats are
Icathia's Curse
is a
mythic item
in

League of Legends
. Can only be forged by .
Recipe
Cost Analysis
Gold Value
Gold Efficiency*
134.53%

gold efficient.
base stats are
Similar items
Notes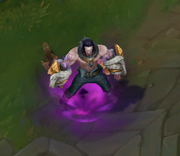 Riftmaker's mythic passive can grant up to

40 ability power

and 10% omnivamp with 5 other Legendary items.

Void Corruption

will amplify all damage types, including true damage.
Strategy
Riftmaker's passive true damage helps take down durable enemies as well as gives slight burst against fragile enemies with the increased damage. Since omnivamp applies to true damage, this means it also provides an exceptional amount of healing. These are very useful for Battlemages.
Constantly dealing damage to enemy champions is required in order to maintain combat and activate Riftmaker's passive. Persistent damage such as will help to keep the passive powered up throughout the duration of the fight.
Trivia

Patch History
Omnivamp reduced to 8% from 15%.
Health increased to 300 from 150.
Mythic passive changed to 2% omnivamp and 8 ability power from 5% magic penetration.
omnivamp reduced to 10% from 18%.
health increased to 450 from 300.
Bonus damage per stack reduced to 2% from 3%.

Maximum bonus damage reduced to 10% from 15%.
Bug Fix:

No longer causes burn to last indefinitely until the target dies.
Stats:

80 ability power, 150 health, 15 ability haste, 15% omnivamp.

Unique Passive - Void Corruption:

For each second in combat with champions, deal 3% increased damage, stacking up to 5 times. While this effect is fully stacked, convert 100% of the increased damage into

true damage

.

Mythic Passive:

Empowers your other Legendary items with

5% magic penetration

.
Limited to 1

Mythic

item.

Stats:

100 ability power, 300 health, 20 ability haste, 18% omnivamp.

item: .
References
Starter items
Pots and Consumables
Trinkets
Distributed items
Boots
Basic items
Epic items
Legendary items
Mythic items
Ornn's Mythic item upgrades
Champion exclusive items
Minion and Turret items
Removed items
Community content is available under
CC-BY-SA
unless otherwise noted.