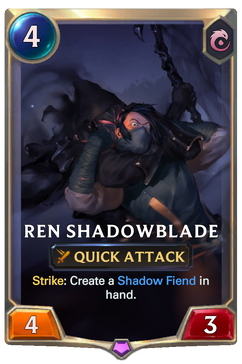 Quotes
 "A shadow to cut through the light!"
 "Their screams pierce the darkness."
 "Drown in shadow."
Allied

3Zed present
 "A shadow to cut through the light!"

 "Our blades speak far louder than words."
Zed:

Ren:
Allied

3Zed
 "Death will bring them silence."

 "Silence the unworthy."
Zed:

Ren:
 "Death approaches."
 "Be still."
 "Your end comes."
 Ren Shadowblade groans.
 "Eternal silence..."
Unsorted/Unknown
 "Your shadow follows."
 "On my mark."
 "Darkness, motion! Then nothing."
 "No more struggling."
 "Silence..."
Trivia
Internally, this card is called Ren The Silent and Kalgren the Wordless.

0

Fatal Strike could be the prototype Skill of this card, before it becomes as it is today.
Media
Change Log
Ren Shadowblade
V1.4

Mana cost reduced to 4 from 8.
Power reduced to 3 from 6.
Health reduced to 3 from 4.
Now gain Quick Attack.
Text becomes: "Strike: Create a

1

Shadow Fiend in hand."

Old Text: "When the enemy summons a follower, grant it Ephemeral."

Announce Preview Patch
Community content is available under
CC-BY-SA
unless otherwise noted.