Raise a Floppa - The Loop
Play Sound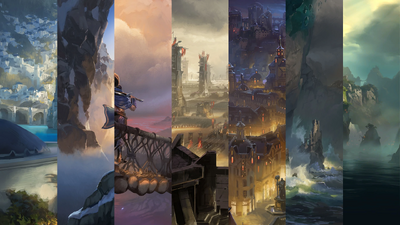 EditEvery card in Legends of Runeterra is sorted into a region based off a canon region of

Runeterra. Cards within a region tend to share mechanics such as certain keywords and tend to synergise well with each other, and combining cards from different regions can lead to unique synergies and playstyles, with their own strengths and weaknesses. Game Modes have specific restrictions on the number of regions that can be in a deck.
Description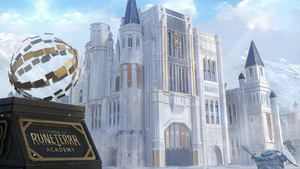 Runeterra is a world divided. Each region holds within it the secrets to unparalleled power and the champions equipped to carry you to victory. All that remains is a simple choice... Whose side will you chose? Will you brave the frozen wilderness and focus your gaze on the Freljord? Or will you pass through the Black Mist and face the spirits of the Shadow Isles?
Legends of Runeterra has cards that appeal to a variety of playstyles. When you activate a region, your growth will result in greater rewards within your chosen realm. Don't feel beholden to any one region, however. Your progress will be saved if you focus your attention elsewhere, allowing you to activate any region at any time.[1]
Gameplay
A deck can consist of cards from a certain number of regions, depending on the Deckbuilding rules being used. In the main gamemodes, decks can only contain up to 2 regions, with some mechanics even disincentivising this, such as

Allegiance - which provides a trade-off when building decks between the consistency of effects, or having access to the benefits other regions provide.
On the

 Rewards tab of the main menu, a player can choose one region to progress at a time, and will then gain more cards from the region when leveling up.
Regions
There are currently 11 regional card sets:
The mechanics and cards of each region are based off the eponymous

 canon regions of

Runeterra. Each has their own set of strengths and weaknesses.
Trivia
Unused icons for many regions of Runeterra were found in the files of the game in early patches.

These icons were given the names "IconAtlas" and then a number, alongside the icons for released regions.
The Zaun icon suggests that at one point the region was going to be separate from Piltover.
The Void icon may be themed after the Watchers.
The Bandle City icon uses an old version of the region's icon.

Each region has their own region theme Board skins, card back skins, guardians, and player icons.

Except for Piltover & Zaun, each offer one card back skin as rewards for its Region rewards. Piltover & Zaun offer 2 card back skins.
Media
References