Fire Emblem Warriors: Three Hopes - The Loop
Play Sound
"You belong in a museum!"

This article or section may contain obsolete information, but exists here for historical purposes.

This item has been removed on patch V5.22.
Ranger's Trailblazer was an epic item in

League of Legends. Only buyable if you have

Smite.
Recipe
Builds Into
Similar items
Notes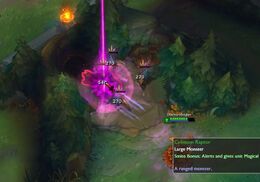 This enchantment was removed because it gave junglers too much clearing power and sustain in the jungle. While this item was intended to be used by weaker junglers which had clearing issues or which would lose too much health or mana when farming monsters, it was actually used by the stronger, dominant junglers, to have even better jungle clearing. Due to that, this enchantment was overshadowing the other enchantments in high elo and pro play.
Icons
Patch History
No longer reduces the cooldown of
by 15 seconds.
Passive - Blasting Smite: Upgrades Smite to . Blasting Smite has a reduced cooldown of 45 seconds and deals 50% splash damage to all surrounding minions and monsters, as well as stunning all enemies damaged for 1.5 seconds. If cast on a monster, you will also restore 15% of your missing health and mana.
Passive - Jungler: Basic attacks against monsters deal 45 bonus magic damage over 2 seconds. While in combat with monsters, you will restore 10 health and 5 mana every second.
Limitations: Limited to 1 Jungle item.
Can be enchanted with
, , , or .
References
Starter items
Potions and Consumables
Trinkets
Distributed items
Boots
Basic items
Epic items
Legendary items
Mythic items
Ornn's Mythic item upgrades
Champion exclusive items
Minion and Turret items
Removed items