New Pokemon Games - The Loop
Play Sound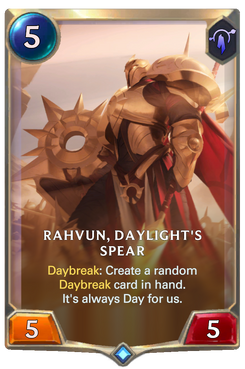 Lore
"Rahvun is revered amongst the Solari for his bravery and for the depth of his faith, embodied in the holy weapon he carries."
"It is said that his spear was imbued with holy magic through his spiritual communion with the sun. After days below the scorching sun, he felt the weapon at his side begin to burn. Instead of tossing it aside, he gripped it tightly until his flesh burned."
"Hours, maybe days passed until he opened his eyes he was nearly blinded by the light of the spear, bright as the noonday sun. While other Solari weapons dulled with the sunset, Rahvun's spear gleamed through day and night, unending as his faith."[1]
Notes
Quotes
Enemy

3Aphelios present
Enemy
6 Cygnus the Moonstalker present
Allied
3 Solari Priestess present
Allied
2 Solari Shieldbearer present
Allied
1 Solari Soldier present
Allied

4Leona
Enemy

2Diana
Enemy
6 Cygnus the Moonstalker
Trivia
Internally, this card is called Solari Chief.
Media
Change Log