Quicksilver Sash is an epic item in

League of Legends.

Recipe
Cost Analysis
Gold Value
Gold Efficiency*
41.54%

gold efficient without its active.
is
Builds Into
Notes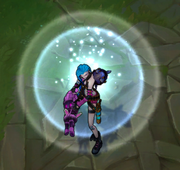 Quicksilver

is an auto-targeted effect.

Quicksilver

has no cast time.

Quicksilver

is disabled during Airborne effects.
Suspension will be fully removed by

Quicksilver

.

Quicksilver

has a very similar effect to , but there are some differences:

Quicksilver

removes suppression (including ) and nearsight while Cleanse does not.
Cleanse removes summoner spell debuffs while

Quicksilver

does not.
Cleanse grants a Tenacity buff while

Quicksilver

does not (only variation of the active effect does).

Quicksilver

does not remove any accompanying, persistent effects that occur with crowd control from an enemy ability unless otherwise stated. Some examples include the tether from , the on-hit attacks from , and the damage reduction from .

Quicksilver

cannot remove stasis.

Despite the fact that it cannot be cleansed,

Quicksilver

is put on a 3-second static  cooldown while affected by and put on a 0.5-second cooldown for or .

Quicksilver

will not remove self slows. The only exception is and .
Old icon
Trivia
mercury, which is also known as quicksilver.
name is derived from the chemical element
Patch History
Updated icon.
Now builds into
.
Active no longer removes airborne effects.
Limited to 1

Quicksilver

item.
Unique Active - Quicksilver

now only cleanses Crowd control debuffs.
Replaced
in recipe with .
Magic resistance reduced to 30 from 45
Used in new item recipe:
.
Adjusted
cooldown to properly reflect the tooltip.
Cooldown reduced to 90 from 105 seconds.
Magic resistance increased to 56 from 48.
Cooldown reduced to 105 seconds from 120 seconds.
Fixed a bug that allowed it to be affected by cooldown reduction.
References
Starter items
Potions and Consumables
Trinkets
Distributed
Boots items
Basic items
Epic items
Legendary items
Mythic items
Minion and Turret items
Special Game Mode Exclusive items
Removed items
Community content is available under
CC-BY-SA
unless otherwise noted.