"
 "At the gates of Qualthala, they tried using that boiling oil on us, but you can't deep-fry courage!"
—

Qualthala is a coastal settlement located at the edge of the Rokrund Plains in southern Noxus.
Lore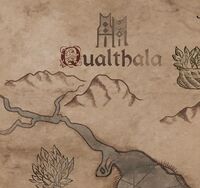 Related Champions
lead the Siege of Qualthala.
a task in Qualthala.
was once have
References
Community content is available under
CC-BY-SA
unless otherwise noted.