General
Pyke is one of 18 champions without a single  ability power ratio on any ability: , , , , , , , , , , , , , , , , , .
Pyke's name is a pun on the pole weapon and the predatory fish, both from PIE root *(s)pey- "sharp, pointy stick".[1]

Namely, Pyke, the capital of the Iron Islands, an island state within the continent of Westeros; Pyke's inhabitants also worship a deity called "the Drowned God".

Pyke will play his critical strike animation when applying bonus damage.

Bone Skewer

can be toggled to stop glowing with the Toggle key bind (default [Ctrl] + [5]). It will revert to glowing at 1:00 or whenever he respawns.
Pyke's dance references the traditional Māori Haka warrior dance.

A side-by-side comparison can be seen here.
He shares this dance with
.

Bone Skewer

's shape is possibly based on those of harpoon-heads carved from bone, antler, & walrus ivory,[2][3] though his is made of metal and magnified to be effective against gigantic in-universe sea-monsters.
Pyke is the second champion in the game whose health can not be improved except through growth per level, the first one being
.
Pyke quite coincidentally shares his name with a location in George R.R. Martin's novel series A Song of Ice and Fire.
gold efficient.

1 HP = 2.66... gold. (calculated with
. 400g / 150hp = 2.66)
1 AD = 35 gold. (calculate with
. 350g / 10ad = 35g)
AD/HP (35 / 2.66) = 13.125 (this is to find where AD=HP, meaning 13.125 HP is equal to 1 AD. The equation would be 13.75[HP] = [AD])
Pyke's passive converts every 14 bonus hp into 1 ad. so if you divide 13.125 by 14, you get 0.9375, meaning each bonus HP you buy is only 93.75% the gold value you get for each AD.
100% efficiency would be 8 AD for every 105 HP.

is 93.75%
Development
Lore
Pyke was not resurrected by Nagakabouros or the Shadow Isles Black Mist. He was resurrected by the magic of the Jaull fish.[19]

Pyke is part ocean now, he can magically turn into
and swim between the air. When he's in this state, he sees the real world as "underwater".

Pyke believes that before drowning he was a sailor aboard The Terror however no one has records of that vessel. Since Pyke's list keeps increasing (usually before killing someone) it's likely that The Terror  is a fabrication from his own broken mind, and a way for whatever gave him his powers to keep Pyke interested in killing people.

The ship he was a sailor of was a different one, with one known member being Lars whom Pyke later killed.
Terror of the Tides may be related to or even the same as The Terror.

Despite similarities to [20]
lore, Riot decided to keep Pyke's lore the same because they felt there was enough room for two deep sea revenants that desired revenge.
Pyke is half Buhru islander and half immigrant. His mother was from the Serpent Isles and his father immigrated to Bilgewater from the  Freljord or the outer territories of  Noxus.[21]
His favorite food is salted pork and his favorite beverage is red wine cut with salt water.[22]
The 'Swimming City' mentioned by Pyke multiple times is noted as being a very real thing, a city that literally swims and never stays in the same place. This is noted because Pyke is stated to never lie.
Quotes
 

"Did I 'support' right?"

 alludes to the conception that  supports aren't allowed to take kills normally unless needed to.
 

"What's worth more? A pound of flesh or a gallon of blood?"

references Merchant of Venice, during which Shylock demands a pound of flesh from Antonio (later on its ruled in court that he cannot spill a drop of blood, as his contract with Antonio specifically states a pound of flesh—not blood).
 

"I want to watch the world drown."

is a play on a quote from The Dark Knight ("Some men just want to watch the world burn.")
Pyke is the third champion to receive ping-related voice lines, the first two being
and .
Skins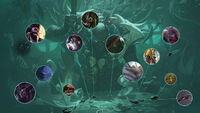 His Nensi.
creature is nicknamed
His splash art has numerous specific cameo trinkets from all of Victor '3rdColossus' Maury previously developed splash arts, such as:

chest design and Demacian crest.
Original Gangplank's face and sword engraving (fan made splash art).
heart crystal.
visor piece.
bird mount tooth.
collar button.
piece of body.
necklace.
pressure indicator.
earring.
spade decoration.




The mask he is wearing references the ones used in Japanese Noh theater.


This skin shares the PROJECT theme with:
can be seen in the background of his splash art.
Relations
References
Community content is available under
CC-BY-SA
unless otherwise noted.